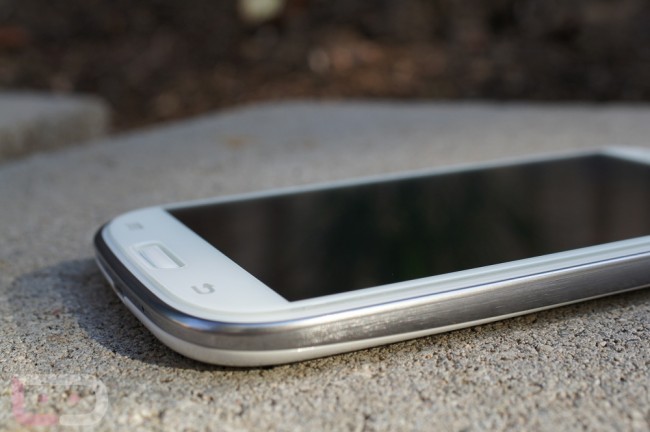 Here we go with another tempered glass screen protector solution for your Samsung Galaxy S3, although this time it's made by the folks over at Spigen SGP. As many of you know after checking out my quick first looks at the XGEAR tempered glass protectors for the GS3 and Galaxy Nexus, tempered glass is the ultimate form of smartphone display protection.  
Spigen's version is called GLAS Premium and is 8-9H in surface hardness, which means it is three times stronger than regular PET film. It also should resist scratches from just about anything, including knives and keys. It has an oleophobic coating to resist against smudges and fingerprints. The touch screen should remain ultra sensitive, and the edges have been rounded ever-so-slightly to make it much easier on the hand.
Spigen trimmed it around the edges, so that almost all cases will be able to fit with this screen protector on your device, took into account the proximity sensor issues that many experienced with XGEAR's original glass protectors, and even tossed in different colored Home button inserts to help with pressing after the protector has been applied.
Initial Impressions
I appreciate the fact that Spigen cut the protector short around the edges so that you can still apply most cases for extra protection. I'm also glad that they worked around the proximity sensor issue that was happening during phone calls on the original XGEAR version. I'm enjoying the slightly rounded edges so that it doesn't feel too sharp in hand and also the home button inserts that make pressing "Home" much easier.
I've looked at a couple of reviews who mention that touch sensitivity is not optimal, however, I haven't run into any issues. In fact, I pressed as lightly as I could throughout an entire email, browsing session, and normal phone use and it reacted to everything I threw at it. Over time, if the adhesive were to give way, I could see there being an issue, but so far, it works perfectly.
Lastly, you won't find the grid of dots on this Spigen version like I did on the original XGEAR versions.
At $34.99 you may consider this to be too expensive, but there aren't many other options. If you want a tempered glass screen protector on your device, you can either go with Spigen's or XGEAR's ($29.99). From what I have read, XGEAR has made changes to fix some of the issues that plagued theirs initially, however, Spigen appears to have added some extra tweaks to make this slightly more appealing (lack of grid, room for more cases, and button inserts).
Update:  After a full day's use, I have had absolutely no touch issues with this protector from Spigen. In fact, it's as good as it was the minute I applied it to the device. We'll see how it holds up over the matter of a week or so, but so far, I'm enjoying the protection.
At this time, we are only seeing a white version available, so blue GS3 owners are out of luck.
Buy. ($34.99) [More info]
Gallery
Video
_______________________________________
Contest
Update: We have our winner! Their name is nyr2k2 and their story is as follows:
My car had blown a tire on the interstate on my way home from work one day. I got out to survey the damage, and decided that since my rim was now bent I should call AAA and get a tow. Reaching into my pocket, my phone slipped out of my hand, flew toward the other side of the car, and came to rest teetering precariously on a sewage drain cover. The phone was literally wobbling side to side, where the vibration from a passing car could easily have pushed it past the tipping point. Fortunately I grabbed the phone in time, but damn, it was harrowing.
Thanks for entering everyone!
Prize:  1 (one) Spigen GLAS tempered glass screen protector for the Galaxy S3.
How to enter:
1.  In the comments, tell us about the scariest time that you dropped your phone.
2.  Feel free to follow us on Twitter, Google+ and Facebook.
Winner:
Tomorrow at 12:00 PM PT, we will choose a winner randomly from the comments. Good luck!