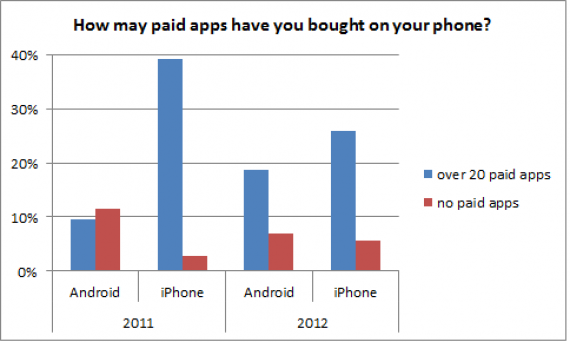 A study put out today shows that the discrepancy between iOS and Android users on the topic of spending money on applications has drastically shrank over the past year. The guys over at SwiftKey partnered with a few websites to take a poll to see how users on each OS buy applications. Last year 39% of iOS users owned 20 or more paid apps with 3% having none. Android was the opposite with 12% having none and a measly 10% having over 20.
This year, that large difference has evened out a little bit. Android's numbers have jumped to 19% of users having over 20 paid apps and no paid apps down to 6%. iOS has dropped dramatically down to 26% with the rate of no apps growing at the same time. Google has certainly been a bit more forceful in how apps should look since ICS was released, but there could be other reasons for this growth as well. The quality of apps on the platform has definitely improved. Plus, many developers are pricing their apps at lower introductory price points to get you into the game, where they then sell you additional features through in-app purchases.
What do you think? Do you pay for a good amount of apps on your phone?
Via: SwiftKey