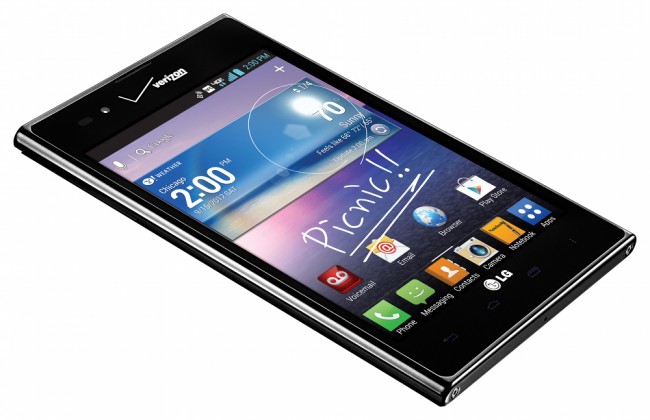 Verizon and LG finally made the Intuition official this morning, giving it an online launch date of September 6, with in-store availability coming the following week on September 10. The device will run $199 on new 2-year contract and have the ability to connect to Big Red's ever-growing 4G LTE network.
For those that haven't followed the story of the Intuition (known as the Optimus Vu overseas), simply think of it as a phone/tablet hybrid. With a 5″ HD display, 1.5GHz dual-core processor, 1GB of RAM, 8MP camera, 1.3MP front camera, NFC chip, and Ice Cream Sandwich, it's got everything you could ever ask for in a phone on the spec front. The only thing you have to sell to yourself is the odd 4:3 aspect ratio on the display, and the fact that it's unbelievably awkward to hold. Is it a phone or a tablet?
The device also includes a Rubberdium pen, a suite of office apps, is business-ready, and is currently the option if a 5″ device is something you have been dying to have. If you would like to see the phone in action, be sure to check out our first look from CTIA in May. 
Verizon Wireless And LG Bring Tablet Productivity And Smartphone Functionality With The Intuition™ By LG
4G LTE Connectivity and a Tablet-Like Experience on Vivid 5-Inch True HD Display
BASKING RIDGE and ENGLEWOOD CLIFFS, NJ — Verizon Wireless and LG Electronics USA today announced the Intuition by LG, a next-generation device that offers the full functionality of a smartphone and a tablet all in one slim, pocket friendly device.  The Intuition by LG, exclusively for Verizon Wireless, will be available online at www.verizonwireless.com starting Sept. 6 and will be in Verizon Wireless Communications Stores beginning Sept. 10 for $199.99 with a new two-year customer agreement.  The Intuition's innovative design and features let customers record their most creative ideas while also staying productive, all in one device. Customers will also have access to the Verizon Wireless 4G LTE network, which covers more than 75 percent of the U.S. population and will soon be available in more than 400 markets nationwide.
LG's 5-inch display with high-definition detail gives customers a premium viewing experience with exceptionally sharp detail, and the 4:3 aspect ratio makes it ideal for reading e-books, watching videos, Web browsing and reviewing presentations.  The Intuition features the Polaris® Office app, allowing customers to view, create, edit and share documents, spreadsheets and presentations right on the Intuition's large display and can even organize files by category or folder.
The QuickMemo™ app can be used with a single press of a button and allows customers to draw or write messages with the included Rubberdium™ pen or with their finger on just about any screen. Add a personalized handwritten note to pictures, maps, websites and easily share with friends through text messages, social media, email and more.  Customers can even pick different colors and pen types to help further customize their notes.
The Intuition also features the LG Tag+ app and two reprogrammable NFC (Near Field Communications) stickers that can be used to create and switch between different phone modes with a single tap.  For example, the stickers can be posted onto an office door or bedroom nightstand and customers simply tap the NFC sticker with their phone to activate a mode and tap it again to return to their original settings.  The different modes are customizable and include Car Mode, Office Mode, Sleep Mode and User Mode.  Settings like Bluetooth®, GPS, Wi-Fi and more can be turned on or off by tapping the back of the Intuition on an LG Tag+ sticker.
Additional Features:
5-inch display with high-definition detail

4:3 aspect ratio to fully use the screen size and eliminate dead space
650 NIT display provides excellent legibility and sharp details even in direct sunlight

The Notebook app turns the Intuition into a virtual notepad for creating documents which, can include text, drawings, images, annotations, video and voice clips
Business ready with enterprise grade security, corporate data encryption with Data-at-Rest Encryption (DARE), secure multi-headed VPN for corporate network connections, remote wipe capability and more
Suite of Amazon apps includes Kindle, Shopping, MP3, Zappos, IMDB and Audible so customers can watch movie trailers, download audio books, shopping and more
8-megapixel camera with LED flash and 1080p HD video recording
1.3 megapixel front-facing camera for video chatting
Enhanced camera features include voice commands to take a picture, continuous shot to take 6 shots with one tap and panorama shot to merge horizontal shots.
Android™ 4.0 Ice Cream Sandwich
1.5 GHz dual-core processor and 1 GB RAM
Mobile Hotspot – Share a 4G LTE connection with up to 10 Wi-Fi-enabled devices
Bluetooth® Version 3.0 + HS
SmartShare – Share media wirelessly to DLNA®-enabled devices
Pricing and Availability:
Intuition by LG will be available online at www.verizonwireless.com starting Sept. 6 and will be in Verizon Wireless Communications Stores starting Sept. 10 for $199.99 with a new two-year customer agreement.
As an online only promotion, customers who purchase Intuition by LG at www.verizonwireless.combetween Sept. 6 and Sept. 10 will also receive a LG Tone Stereo Bluetooth® headset at no additional cost
Customers purchasing the Intuition by LG will need to subscribe to a Verizon Wireless data plan.  Share Everything Plans allow customers to add Intuition by LG to their account for $40 monthly access.  For additional information, customers should go towww.verizonwireless.com/shareeverything
For additional information on Verizon Wireless products and services, visit a Verizon Wireless Communications Store, call 1-800-2 JOIN IN or go to www.verizonwireless.com.
About Verizon Wireless
Verizon Wireless operates the nation's largest 4G LTE network and largest, most reliable 3G network. The company serves 94.2 million retail customers, including 88.8 million retail postpaid customers.  Headquartered in Basking Ridge, N.J., with 78,000 employees nationwide, Verizon Wireless is a joint venture of Verizon Communications (NYSE, NASDAQ: VZ) and Vodafone (LSE, NASDAQ: VOD).  For more information, visit www.verizonwireless.com.  To preview and request broadcast-quality video footage and high-resolution stills of Verizon Wireless operations, log on to the Verizon Wireless Multimedia Library at www.verizonwireless.com/multimedia.
About LG Electronics USA
LG Electronics USA, Inc., based in Englewood Cliffs, N.J., is the North American subsidiary of LG Electronics, Inc., a $49 billion global force and technology leader in consumer electronics, home appliances and mobile communications. In the United States, LG Electronics sells a range of stylish and innovative mobile phones, home entertainment products,  home appliances, and air conditioning systems and energy solutions, all under LG's "Life's Good" marketing theme.  LG Electronics is a 2012 ENERGY STAR Partner of the Year. For more information, please visit www.lg.com.