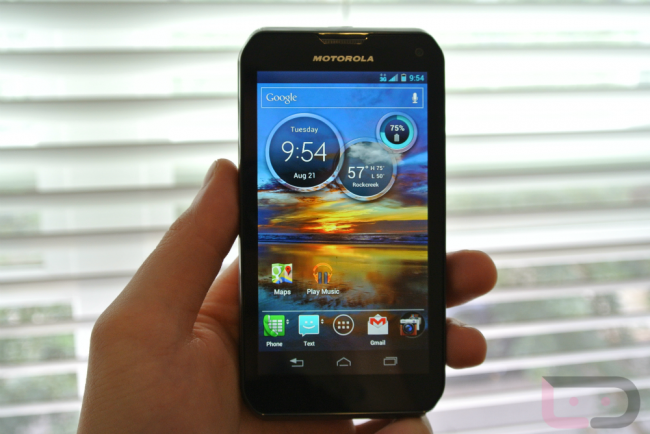 Motorola's Photon Q has been out for about a week now on Sprint and we are ready to put up our "official" opinions and thoughts on the device. As someone who never owned another QWERTY phone after the OG DROID, it was interesting to say the least to go back to a phone that doesn't feel ultra thin such as the One X and Galaxy S3. The Photon Q looks to take the throne above all other full keyboard-toting devices and does so with relative ease. But of course, the phone is not without its faults though, so let's get right into it. 
The Good:
Specs:  On paper, the Q looks to draw you in with its enticing specifications. Oh, a 1.5GHz dual-core Snapdragon S4 and 1GB of RAM? 8MP camera that shoots 1080p video? And what about that fancy 4.3″ display with Motorola's "ColorBoost" technology? That sounds like something I want to have in my pocket! Alas, this device does sport some high-end device specs. Along with Ice Cream Sandwich, NFC capabilities, and 8GB of on-board storage (expandable to 32GB), the Q can easily handle its own against some of Samsung's or HTC's better offerings, but that's on paper.
Battery:  From my time with it, it's one of the better battery experiences I have had. I easily spent a good hour playing Organ Trail the other day and hardly noticed a toll on the device despite a small warmth coming from its backside. The phone features a non-removable 1785 mAh battery, which actually shocks me every time I am reminded at how bulky the device is. You're telling me I have to carry around this brick and it doesn't even come with more juice than a DROID RAZR's 1780 mAh? Some how, Moto has made it work.
Build:  Given Motorola's exceptional track record at making hardware that everyone loves, this device is no different. It's a beast. It's a tank. I am certain that upon dropping this off any reasonable surface, that it has a pretty darn good chance of surviving the fall. The backside's hard plastic feels great in hand and none of the buttons come off as being "janky" or "loose." For example, there's nothing more unsettling than a loose power key. All of these feel very sturdy and will easily last a couple years of abuse. Overall, the phone feels great in hand.
Full QWERTY Keyboard:  Well, it's a full QWERTY. That's why we're here, right? The keys feel good and they give an excellent "click" sound when pressed. In additional, they each light up extremely bright, so if you're trying to text in the movie theater, you're sure to get a few stares. The keys are spaced perfectly and don't feel cramped like many of the older DROID keyboards did. Down below in the gallery I have a nice picture of the Q sitting next to famed OG DROID. It's a good comparison shot.
Sprint LTE Connectivity:  If you live in an area supported by Sprint's 4G LTE network, then that's a major plus. Unfortunately for myself and millions of other Americans, that is not the case. Maybe one day we'll see it in these parts. Until then, it's a 3G-only device.
NFC:  The Q does have an NFC chip inside, but weirdly enough, Google Wallet is not supported. When and if it ever will be, I have no idea. I have it added as a plus since I am hoping that since the technology is inside, that down the road the Q will embrace G-Wallet and allow for mobile payments.
Slider:  The slider aspect of this device really rocks. You can flick it up and down real fast and rest assured that it isn't going to snap on you. The top part was definitely screwed on tight and I love that aspect. It's a fluid slide and it's nice not to feel any jerks or rubs going on while sliding it.
Bootloader:  This bad boy is unlockable! As of just a couple of days ago, Motorola released a web-based tool for you to unlock this device's bootloader. Once unlocked, rooting and adding a custom ROM will be much easier if that's something you're into. For hackers, this is the biggest selling point before all others.
The Not-so-Good:
Display:  You won't be seeing any pixel shots here, folks. But I will say this – "It's a trap!" The Photon's 4.3″ qHD "ColorBoost" (960 x 540 pixel) display is rather hard to look at after reviewing phones such as the Galaxy SIII and One X. With the bare eye, at certain angles you can see the pixels glaring at you and it's no fun to look at. If a super high-tech display is not something you need though, it will most certainly get the job done for your Angry Birds and YouTube video watching.
Camera:  I will let this picture speak for itself. This is a full quality shot taken of my non-moving boxer (Usually he's a spazz). I have left it at full resolution so you can see just how awful my experiences have been. This is the best example I could get of a well-lit shot being practically ruined by the overall "blur" effect that the camera adds.
Blur:  Just because it's better than the old version of Blur, doesn't make it any more fun to use. There are a few useful additions it brings such as swiping up on icons and contacts to reveal shortcuts, but overall, it has bogged down my experience and if this wasn't a review unit, a 3rd party launcher would be the first thing I installed from Google Play. For some reason, every time I am dealing with Blur it just seems to be more of a negative than a positive. One thing I will say is that I do enjoy the additional lock screen shortcuts it provides to applications, but there's applications that can do that as well. I know manufacturers want to differentiate themselves from each other, but I wish it was more on a hardware level than a software level.
Performance: On that note, I broke down. I installed Nova Launcher just to see if a different launcher could somehow change this device's overall feel and speed. To my disbelief, even Nova couldn't make the homescreen lag go away. When performing simple tasks such as swiping away cached apps and going from games to camera back to games it performs rather well. But if there's a constant lag just swiping homescreens, that's a problem for me
Gaming: As for gaming, I was hoping to find some titles that took advantage of the QWERTY keyboard. Unfortunately, it seems that most developers are just too used to programming games for on-screen controls. Although, as a bonus, Call of Duty: Blacks Ops Zombies (an Xperia exclusive title) did work on this device. Whether it's because of the keyboard or there was a glitch in the Matrix, it was nice to be able to finally play it.
Sprint's LTE:  Seeing as how Sprint's LTE is only available in very few markets, I would say that is not the biggest sell for the device. I wish I could have tested it out.
Unboxing and First Look:
Gallery:
The Verdict:
The phone does have its ups and downs, but overall, it's a fine device for most. If you're in need of the full QWERTY experience, I would look no further. The device is priced at a reasonable $199.99 on a new two year agreement. My only real issue is that if you're the type of person that needs their phone to have a decent camera, you may want to look at other offerings such as the Galaxy S3 on the "Now Network." Although, it is hard to resist a Motorola device with an unlockable bootloader.