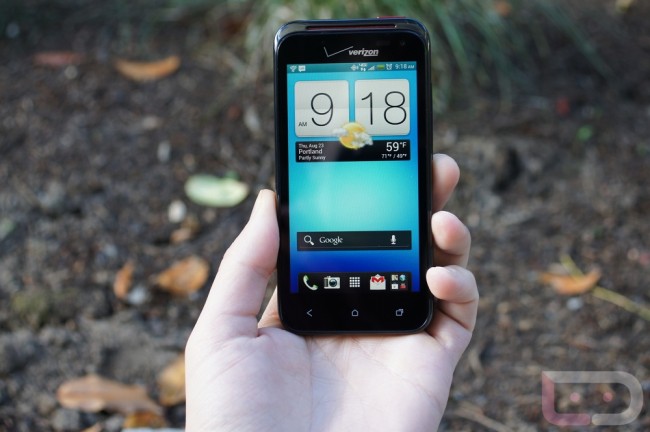 The DROID Incredible 4G LTE sort of came at a bad time, just like the Motorola Atrix HD. Both phones were released far too close to the phone of the year, the Samsung Galaxy S3. And just like the Atrix HD, I have had this phone for over a month now, but when the GS3 was released, the Inc 4G immediately took a back seat until things cooled off a bit. Actually, "back seat" is the perfect way to describe this phone. It took a back seat to not only the Galaxy S3, but also the entire HTC One series that was released earlier in the year. It didn't receive the coveted "One" tag, nor did it receive any of the high-end specs of that series. Hell, maybe we should go with "stepchild" instead of "back seat?" Anyways, let's talk about it. 
The Good:
Battery:  One of the few highlights to the Incredible 4G has been battery life. With only a 1700mAh battery inside, I was initially worried that it wouldn't be able to get me through much of a day, especially while running on 4G LTE. To my surprise, this phone lasted all day and then some. As you can see in the screenshots, with steady usage on nothing but LTE, I had around 46% left after having been up and running for almost 16 hours. You can probably thank the Snapdragon S4 inside that is the most efficient processor on the planet, right now. It's not the same processor that powers the Galaxy S3, but is instead a 1.2GHz version that could have been underpowered to help extend things like battery life.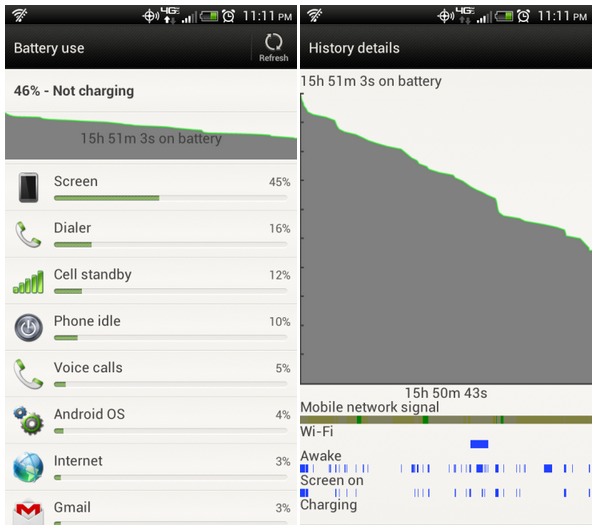 Camera:  The 8MP camera on the Incredible 4G is really good. It's incredibly fast, sports a f/2.2 aperture, and 28mm lens. You click and it shoots. If the lighting is great, you may not even notice that you just took a picture – that's how fast it is. Unfortunately, it doesn't contain the ImageSense chip that came with the One Series, so options like burst mode are not included. Still, you should be able to take some beautiful stills with this camera. If there are two massive highlights for this phone, it's in battery life and the camera.
Price:  At $149, the Incredible 4G is priced reasonably well. It could easily go for $99 with its lower-end specs and small frame, but it does have NFC, 4G LTE, and enough goodies to help justify the $149 mark. I'd personally buy it through a dealer who would likely have it for $99 or less. In fact, Amazon is selling it for around $49 as of today.
NFC:  Yep, this phone has NFC. While Verizon refuses to let it use Google Wallet, you can at least beam links, contacts, and apps to your friends who also have NFC phones. NFC should be standard in all smartphones going forward, especially with more mobile payment options on the way, so we have to give props to Verizon and HTC for adding it in, even though this is a mid-tier device.
The Not-so-Good:
WiFi Notification:  Before we get into this section, we need to start off by calling out Verizon (again) for the most obnoxious ongoing notification of all time. We aren't sure if this is a hint for you to get off of their network or because you may have a new Share Everything plan, but the "Tap to turn Wi-Fi on" notification that cannot be removed is easily the most annoying change on any phone in the last year. Seriously Verizon, we get it, we know how to turn WiFi on and off. And even if we didn't, you should still give us a way to remove this notification, because at some point, we are going to know how and not want this massive notification taking up precious screen space.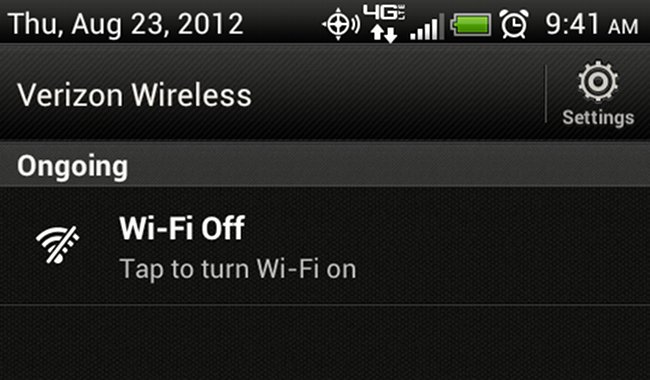 Specs:  Normally we start every review off with specs, because well, most phones have great specs. This phone, does not. It sports a 1.2GHz dual-core Snapdragon S4 processor that we have been told is "different" than the Snapdragon S4 in the Galaxy S3 and many other phones. We don't know what "different" means, but it certainly doesn't mean "upgrade." It also rocks out with a low-end 4″ qHD Super LCD display, VGA front camera, and around 8GB of internal storage. I'm calling this a "not-so-good" because the Incredible was at one time a top tier phone, but has since been shoved into the mid-range game.
Display:  The display on the Incredible 4G is not good. It's a Super LCD, so the pixel arrangement is what you would want, however at a qHD resolution and incredibly low pixel density, this thing isn't impressing anyone. Take a look at the picture below and you'll know what I mean. The colors are also off, with whites looking almost yellow at times. I'd call the 4″ display too small for my liking. I'm sure the iPhone 5 will launch with a 4″ display and the fankids will claim it's the sweet spot, but for an Android guy who has been using 4.5″ and above displays for months, this thing feels tiny.
Violent Haptic Feedback:  The haptic feedback on this phone is crazy violent. When you press one of the soft keys, you can actually hear parts moving around. It almost vibrates out of your hand if you don't hold it tightly enough. OK, that last part was a bit of an exaggeration, but not much of one. When this thing vibrates, you can tell that this is one of the more cheaply made phones in some time. Tone it down, HTC!
Build:  This bullet is sort of a continuation of the end of the haptic feedback section in that this phone feels remarkably cheap. It creaks, makes odd noises, and scuffs easier than most phones. When the camera focuses, you can actually hear a mini-popping noise, which is scary.
Sense 4.0:  I really do not like Sense 4.0 any longer. When it was first introduced on the One X, it was a breath of fresh air over previous Sense versions, however, it's grown to annoy me just like most skins. The 3D animations and sluggishness are not fun to deal with. Now that Google has turned stock Android into a minimal and incredibly beautiful operating system, skins like this just seem like a downgrade. If you buy this phone, please install a 3rd party launcher immediately, to help hide most of Sense. If you would like to see a full overview of Sense 4.0, check out this video.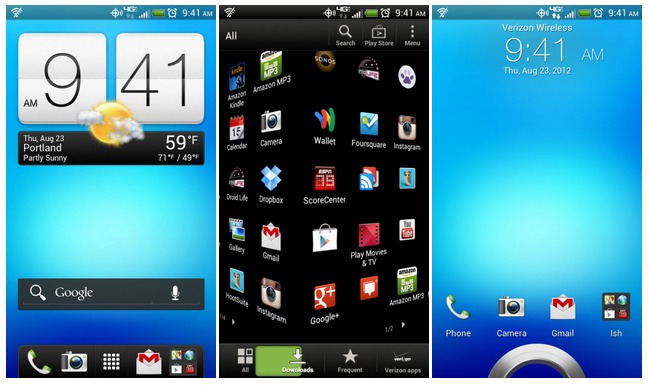 Bloatware:  Our official bloatware count comes to 13, a number we gathered thanks to a special "Verizon" tab in the app drawer. It's a lot less than we have seen on other phones in the past, but with most of them being permanent fixtures unless you disable them, it's flag-worthy.
Keyboard:  The Sense keyboard needs a major overhaul. It's slow, only vibrates with every other key press, and has a row of arrows on the bottom that I have never used one time in my life. It also doesn't auto-add spaces when you choose word predictions, something that drives me insane. If you force yourself into using this keyboard, at least go into keyboard settings and turn on its swipe/trace feature, as it works fairly well.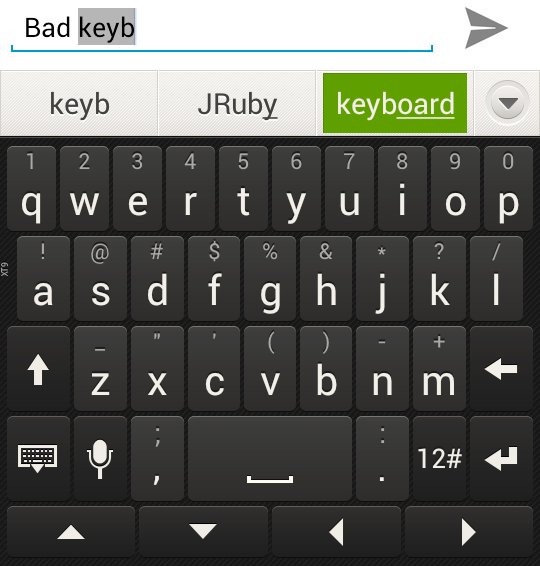 Hardware Soft Keys:  HTC tried to do the right thing when it eliminated the Menu button from its navigation keys, but since developers have been slow to adopt this standard in their apps, you are often left with a black bar across the bottom of your screen with a single button to access menu options. They fixed this issue in the One X with a software update, but have not provided a fix for the Incredible 4G. On a screen that only measures 4-inches, you need all of the screen real estate available at all times.
Size:  This phone is too small for my liking. Coming from big phone after big phone, it was a struggle to use something this small. Typing on it, browsing the web, and multi-tasking were painful at times because of the small icons and screen size. If you have dainty little hands, you may love this size – I just, do not.
Unboxing and First Look:
Gallery:
The Verdict:
With no reason to beat around the bush, I'll just come out and say it directly – this phone is a mid to low-tier Android device that you shouldn't waste your time with. Verizon chose to pass on the One Series and instead gave HTC fans this. It's specs aren't enough to make it a powerhouse, and the build quality is so iffy and cheap, that I'd be afraid to attach 2 years of my life to it. It's $149 from Verizon, but you can pick up the Galaxy S3 for $50 more and hang out with the Android device of the year. It's battery life is great, as is the camera, but those aren't big enough selling points to mask all of its downfalls.