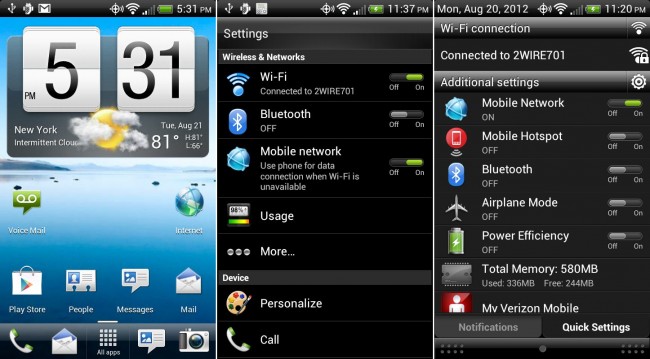 Thunderbolt owners! An official Ice Cream Sandwich (Android 4.0.3) build has been released in ROM form for you to take for a spin. Thanks to Team BAMF, you can taste the sweet update ahead of Verizon's approval. The build number is 7.00.605.2, which bumps the device up to Sense 3.6 and an experience most Thunderbolt owners will be pleasantly surprised with. The separate "Quick Settings" tab that HTC includes is top notch. The Settings menu has also been completely revamped to match ICS styling.
The ROM itself is stock (deodexed), but does include root. HTC's "spyware" has also been removed. You can grab the file from the source link below.
So until HTC and Verizon finalize everything in order to meet their self-imposed August deadline, this should hold you over. And feel free to the flip the bird to Woz.
Via:  BAMF
Cheers Josh!