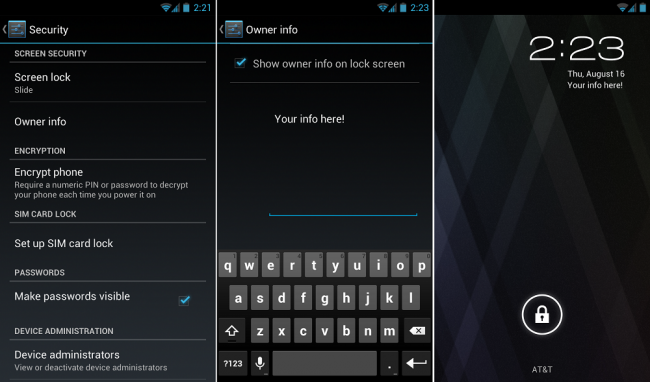 You always want to make sure your Android device is secure. But what happens when you accidentally leave your phone somewhere and someone picks it up? In some cases, they're likely to turn it on to see if there is contact information available. Luckily, Android offers a fantastic option for placing owner's information right on the lock screen for this circumstance.
Let's go ahead and set it up, that way the next time someone finds your phone, you'll get it back safe and sound. 
Instructions:
1.  Open the Settings menu on your device.
Press the Menu button and then Settings. On some devices without a Menu button, you can pull down your Notification menu and select the Settings icon.
2.  Under "Personal," select the "Security" menu.
3.  Below "Screen Security," select the option for "Owner Info."
4.  Check the box for "Show owner info on lock screen."
5.  Enter the information you would like to be provided on the lock screen.
For example:
"John Doe – (123) 456-7890 – [email protected]"
6.  Once your info is added, back out of that menu.
7.  Make sure it's set up properly by turning off your screen. Turn it back on and you will see your info on the lock screen.
You have now enabled Owner Info on your device.
*Android Beginners Guide is a way for people new to Android to get to learn how Android works. We will be posting many tips and tricks on how to optimize your usage of the Android operating system.