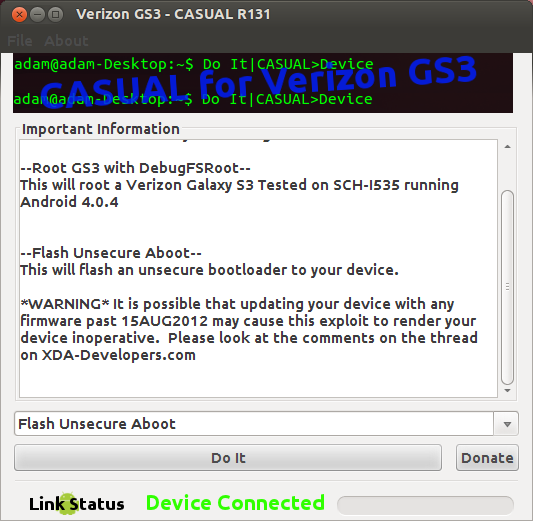 And the news of the day goes to…XDA developers who managed to flash an unsecure bootloader to the Verizon Galaxy S3. Developer AdamOutler posted up a file for Mac and Linux that will root your GS3 and apply the unsecure bootloader, leaving your device open for you to do as you please. I cannot even express in words how big of an achievement this is for the community of Galaxy S3 owners that were beyond upset with Verizon's choice to lock the bootloader of this device. 
*Warning (straight from Adam) – "Let me make this clear. If Samsung updates your device's bootloaders, using this tool could potentially brick your device. Once you apply this, never accept a factory update without first flashing the Odin Packages in the Original Post of this thread. As a general rule, you want to be the last guy to apply any Samsung update. Run custom."
Let me say what he said one more time, so that we are clear. After applying this unsecure bootloader, you will not want to accept an update from Samsung or Verizon again or you could brick your device. You'll have to stay with custom ROMs for the foreseeable future, to be safe.
With that said, are you ready for freedom?
Instructions:
*Mac or Linux only.
1.  Download the file at the source link below and open it.
2.  Connect your device, select "Root with DebugFSRoot" and then "Do It."
3.  Select "Flash Unsecure Aboot" and then "Do It."
4.  Use Odin or CWM to flash kernels to your device.
*Windows users, you'll have to be patient and wait for someone to create a similar tool.
Cheers Mike and Jason!