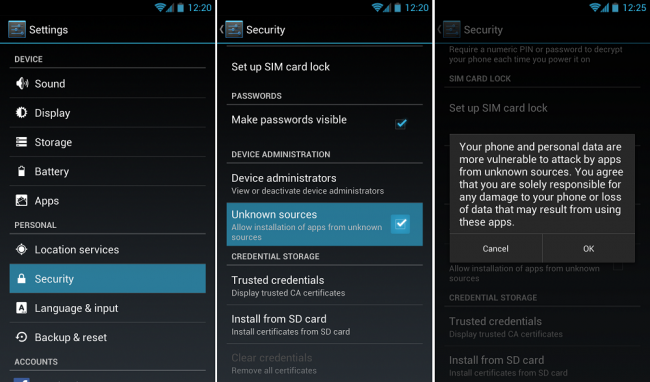 One of the fantastic aspects and bonuses of Android is the ability to "side-load" or install 3rd party aplications that are not from Google Play or the Amazon Appstore. Apps can be side-loaded from Gmail, your SD Card, or your Internet browser once the app is downloaded. Android devices do not come with this function enabled automatically, but it must be turned on by the device's owner. Doing so is as easy as just pressing a few buttons so let's get to it. 
Warning: Side-loading applications can be dangerous to your device. If you install a malicious application, it can hi-jack your data and share it with untrustworthy people. Instances of this are uncommon, but the risk is still there. Always download applications from trusted sources. And no, we do not condone application piracy. Please support hard working developers by buying their apps from Google Play.
Setting up side-loading:
1.  Open the Settings menu on your device.
Press the Menu button and then Settings. On some devices without a Menu button, you can pull down your Notification menu and select the Settings icon.
2.  Under "Personal", open the "Security" settings menu.
3.  Where it says "Unknown Sources," check the box.
A warning pop-up will make sure you're sure that you want to allow for this. As a reminder, installing apps from bad sources is never a good idea. Only install applications from a trusted source to make sure your data remains secure.
4.  Select "OK."
You are now ready to install 3rd party applications on your Android device.
Side-loading an application:
To test out side-loading, let's try downloading an APK file and installing it on your device. The application will be the official Jelly Bean wallpaper pack that some of you will enjoy.
1. Click this link in your phone's web browser.
2. After downloading, click on the file name in your notification bar.
3. A page asking to "Install" or "Cancel" will appear.
4. Select "Install."
You now have side-loading up and running. Enjoy.
*Android Beginners Guide is a way for people new to Android to get to learn how Android works. We will be posting many tips and tricks on how to optimize your usage of the Android operating system.