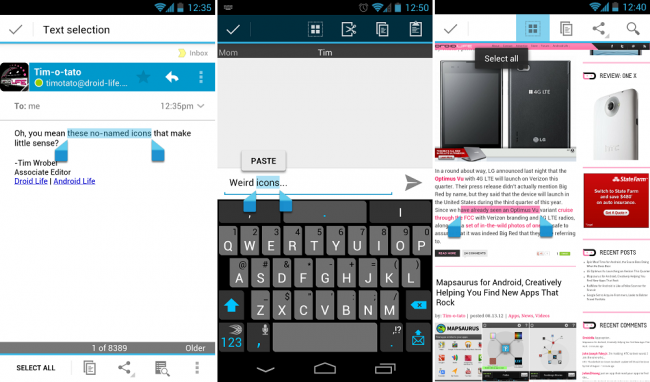 With the introduction of Ice Cream Sandwich (followed by Jelly Bean), Google implemented new icons through their Holo theme and Action Bar to represent the cut, copy, select all, and paste features inside an email, text message/box, or basically anywhere that you would need to perform one of these actions.
With proper research into the issue, a user could find out what these new icons mean, but if you're new to the Android OS, it could be confusing and intimidating at first. It also doesn't help that you may see them in an Action Bar at the top of one app and then the bottom of the next app. In some places you will even see the OS spell out "SELECT ALL" or '"PASTE," yet use icons for each in another. Either way, this is what they stand for. 

Copy: The icon on the far left is "Copy."
Cut: Second to far left is "Cut."
Paste: In the middle is "Paste."
Select all: The dotted box with four filled in boxes inside second to right is "Select all."
Share: On far right we have the "Share" button.
Pro tip:  Long pressing on any action bar icon will help to identify them by popping up a text bar describing the action.
Hopefully this will spare you some confusion in the future when you're trying to edit some documents.
*Android Beginners Guide is a way for people new to Android to get to learn how Android works. We will be posting many tips and tricks on how to optimize your usage of the Android operating system.