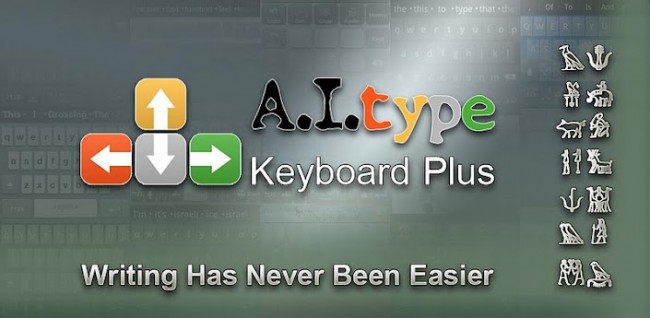 Does everyone remember A.I. Type keyboard? The keyboard that functions a lot like Swiftkey, with its predicting, learning, and correcting, is now 60% off ($1.99) thanks to its install total eclipsing the 1 million mark. There was once a time when A.I Type was all the rage, especially because of its theme capabilities, but that damn Swiftkey is just too good to not use on a daily basis. 
With that said, the makers of it are doing their best to innovate and improve. Along with this price reduction, they plan to release a new version that contains a handful of goodies that may actually interest you. The list looks like this:
A 5th row of keys, numeric by default, which can be switched with a single click to arrow keys and undo and redo buttons, or symbol keys. It can be toggled on\off easily by sliding up on the keyboard.
Introducing the highly anticipated ICS voice to text functionality which can be used directly from within the keyboard.
Launching the new EZReader Theme Pack. It's specially designed for visually impaired or low vision people. It includes big buttons with a very large, clear, easily readable font, high contrast, comfortable color scheme, clean look, and it reads the words aloud as you type. And it's now available for free.
Other improvements – auto-corrected words are now previewed on the space-bar, shift+delete which deletes characters after the cursor, support for new languages including Korean, improvement of the one-click resize functionality, a fast delete function that speeds up as you delete, and major improvements in performance and memory usage to make it run faster and smoother.
If that sounds like gravy, think about jumping on it before the price pops back up. There is also a free version that you can try as well, to decide if A.I. Type is for you.
Play Link ($1.99)