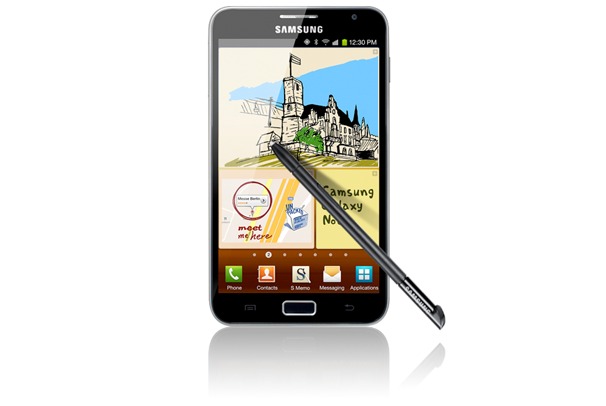 T-Mobile Officially Announces Samsung Galaxy Note, Arriving in "the Coming Weeks"
Late last night, T-Mobile released a short press release letting the world know that they will begin stocking and selling the Galaxy Note sometime soon. It's been a long time coming, but the 5.3″ phablet will be available sometime in August if rumors are correct. It will sport the Snapdragon S3 processor clocked in at 1.5GHz, but will have no LTE radio, only T-Mo's HSPA+. It will also feature ICS out of the box, another welcome feature. If you're anxious to hear more, hit the source link below. 
Via: TmoNews
Sprint Lays Out First Cities To Get LTE Network Airwaves
Sprint's LTE network is coming, just ask all the owners of the HTC EVO 4G LTE who are waiting for it. We just don't exactly know when, but when it does get here, we know where it will be going live. Sprint laid out their plans though for 15 cities to go live when their new network is ready to go.
Atlanta, Ga.
Athens, Ga.
Calhoun, Ga.
Carrollton, Ga.
Newnan, Ga.
Rome, Ga.
Dallas, Tx.
Fort Worth, Texas
Granbury-Hood County, Texas
Houston, Tx
Huntsville, Texas
San Antonio, Texas
Waco, Texas
Kansas City, Mo.-Kan.
St. Joseph, Mo.
Lots of love for Georgia, Texas and Missouri in this initial rollout. Let's hope that they continue their network expansion quickly so that more people can have the benefits of LTE speeds and downloads.
Via: Sprint
Could AT&T Be Working On its Own Shared Data Plans?
After the uproar that occurred when Verizon launched their Share Everything Plans, it's hard to think another carrier would consider it, but AT&T might be following suit. A screenshot from an AT&T customer detailing his or her billing cycle showed a "Group Data" section that was unused, but was measured in MB anyway. This is far from definitive proof, but it might be a sign that AT&T is looking to cash in on shared data plans just like Verizon has. Time will tell if the two largest national wireless carriers will soon force their customers to switch to these new plans.
Via: Phone Arena
AT&T Galaxy SIII Updated to Take Away Global Search Function as a "Precautionary Measure"
The patent wars rage on with the Galaxy SIII on both Sprint and now AT&T being updated to dumb down their search function. Google and Samsung are looking to avoid more injunctions against Android devices like what happened to the Galaxy Nexus not too long ago. "Samsung has updated the software for the Galaxy S III as a precautionary measure to ensure that U.S. consumers may enjoy using our innovative products without interruption," is what Sammy had to say in a statement regarding the updates. It's good to see that shipments won't be stopped, but unfortunately Search, one of Google's greatest strengths, is going to suffer for it.
Via: Phone Scoop
Sprint Announces ICS Upgrades For HTC EVO 3D and EVO Design 4G
Android 4.0 was such an amazing upgrade to the OS that it is news whenever an existing phone is going to receive it. Sprint and HTC are working together to get two of their phones upgraded "sometime next month." The EVO 3D and EVO Design 4G will be getting OTA updates to ICS whenever the builds finish going through testing. Props to HTC for continuing to update it's phones to the latest versions of Android time and time again.
Via: Mobileburn
ICS Update For Motorola Atrix 2 Leaks Out, OTA Sometime Within the Coming Months?
The method named "Cheesecake" is basically tricking your phone into pinging servers with test builds of phones and downloading them. We've come across many updates using this method and now we can add the Atrix 2 to this list as well. Someone pinging the servers through Cheesecake came across the upgrade to ICS and proceeded to download it. This usually means that the update is in testing, and that we could see it sometime soon.
Via: Phandroid