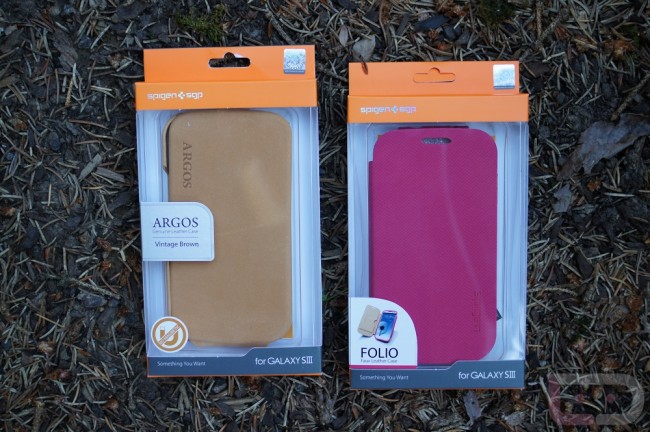 Since the Samsung Galaxy S3 on a variety of carriers including Verizon, has started to arrive on the doorsteps of many of you, we thought we would spend some time today to talk about a couple of your case options. Last week, we looked at the offerings of RearthUSA, but today are switching over to Spigen SGP. In hand, we have their Argos leather flip case and the Folio faux leather case, each in a handful of colors.
After you read through our thoughts on them, be sure to jump to the bottom to get in on some contest action. That's right, you can win everything you are seeing today. 
Folio Faux Leather Case
The Folio Faux Leather case comes in a greyish brown, navy blue, and the reddish color you are seeing in the pics above. The material itself is obviously not leather, but it feels really nice in hand. It has almost this ribbed feeling that definitely gives it enough grip to help keep it in hand. The flip mechanism doesn't feel cheap, and you even have a slot to keep a business card or two. There are indents for the volume rocker and lock switch so that you shouldn't have any trouble finding or pressing them. There are camera, speaker, headphone jack, and microUSB cutouts on the back and bottom as well, so that you will never miss a shot, sound or charge.
For the most part, I like the feel and look of this case, but I do have one small gripe. With a phone inserted, it doesn't really feel like it hugs it tight enough, for me anyway. Now, your phone certainly isn't going to fall out of this case or anything like that, but it would have been more impressive had it really hugged my Galaxy S3 just in case the material starts to give over time. Overall, it's a solid flip case option. The price is $39.99 though, and again, it's not real leather. [Buy]
Argos Leather Flip Case
The Argos Leather Flip case is definitely like no other case I have ever held. Rather than flipping to the side, this flip case goes vertical on you. So when holding it in hand, the top cover actually moves down from a top latch to give you access to the phone. There are cutouts for the volume rocker, lock switch, camera, and speakers, however, the microUSB port is only accessible with the top flipped open. I sort of like the idea of the case flipping down and out of your way, but it would definitely take some getting used to.
This case is made of genuine leather, comes in 3 colors (white, black, and brown), and is listed at $39.99 on Spigen's site. Personally, this genuine leather feel is not for me, but for those that have chosen leather in the past, you may be good here. To me, the faux leather of the flip case feels much nicer in hand. Who knows, maybe once this genuine leather has worked itself in a bit, it'll feel amazing. [Buy]
______________________________________
Update
We have emailed our winners. Go check your email and see if you got lucky. 🙂
Contest
Let's give all of these away, along with a screen protector! Some of you may have your orders by tomorrow or early next week, so the last thing we would want is for you case lovers to be walking around naked.
Rules:
1.  In the comments, tell us why you chose to buy a Galaxy S3.
2.  Then tell us which of these cases or screen protector you would like. Your choices are:
*We have 1 black Argos, 1 white Argos, 1 brown Argos, 1 red Folio, 1 blue Folio, 1 grey Folio, and a Ultra Nano Clear screen protector.
3.  Tomorrow at 9AM Pacific, we will choose our winners.
Good luck!