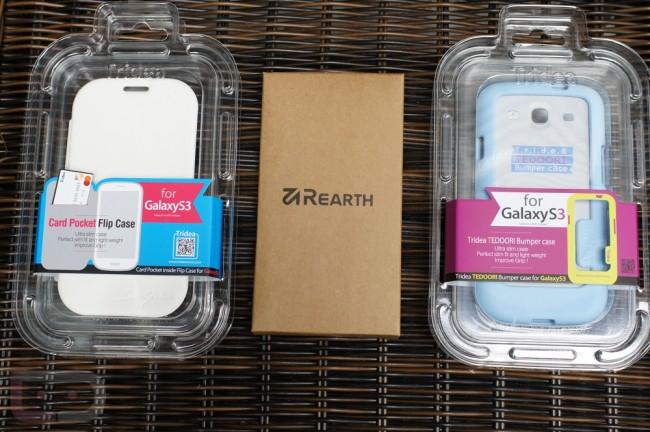 The folks over at RearthUSA were kind enough to send over their first set of Samsung Galaxy S3 cases, and since they created one of the better Galaxy Nexus cases of all time, we thought we'd give them a look. In our box of goodies was a Ringke Slim Lite case, Tridea Flip Case, and a Tridea Bumper. We slapped each of them on our white GS3, took some pics, and are ready to share some thoughts.
As a reminder, this is the beauty of the Galaxy S3 having one design and form factor across the globe. It doesn't matter who is producing a case for this phone, it should fit. There aren't slight thickness tweaks or screen adjustments or volume rocker changes – it's the same exact phone no matter the carrier, it just runs on a different network. You may recall the painful accessory situation for the Galaxy Nexus and its LTE and GSM variants? That won't be a problem here. 
Ringke Slim Lite Case
The Ringke Slim Lite case is my favorite of the 3 that we received. It's ultra thin, adds very little bulk, and has a soft matte black finish that feels great in hand. The glossy backing of the Galaxy S3 can be semi-slippery at times, so something as minimal as this case isn't a bad idea to have laying around. This case reminds me a lot of the G-Nex Ringke Slim that we fell in love with. At $13.99 for either the white or black versions, along with free shipping code "freeshipping," this won't break the bank. [Buy]
Tridea Flip Case
The Tridea Flip Case is a lot like the OEM Galaxy S3 case, but it has a magnetic latch to hold it closed and a card slot for business cards. It comes in white or black themes, has this mini mirror on the back for those post lunch teeth checks, and feels like it's made with quality materials. I personally am not into flip cases, but I understand that they provide both screen protection along with a level of device drop security. At $39.99 though, it better pay for lunch too. [Buy]
Tridea Bumper
Ahh bumper cases. When was the last time you sported one of these? Tridea's Bumper is pretty traditional in the fact that its made of rubber and should save your phone from a drop thanks to its squishyness. Other than that, you have to decide if you like rubber on your device, if pulling it in and out of your pocket is going to be easy or difficult, and whether or not baby blue is your color. It's only $10.99. Hopefully they have more colors in the works.
_____________________________
Contest
Let's give all of these away, along with some screen protectors! We know that many of you pre-ordered the Galaxy S3 and are looking for some form of protection, so we thought we could help a few of you out by saving you some of that hard earned cash. Ready?
Rules:
1.  Leave a comment by telling us which Galaxy S3 you ordered (or will order) – carrier, color, and storage.
2.  Then tell us which of these cases or screen protector you would like. Your choices are:
*We have 1 black Slim Lite, 1 white Slim Lite, 1 white Flip Case, 1 black Flip Case, 1 blue Bumper, and a Ringbo Ultimate ClearPlus screen protector.
3.  Today at 4PM Pacific, we will choose our winners.
Update:  Winners:
We picked our winners! Be sure to check your inboxes to see if you won!
Good luck!