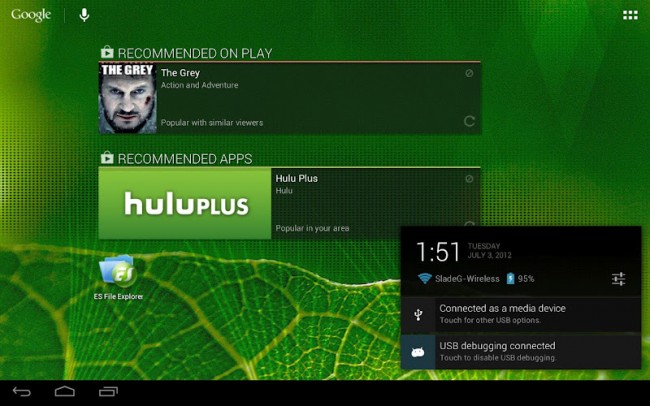 Many noticed that when the first pictures of the Nexus 7 popped up, Google implemented portrait mode through most of the tablet and we think it looks just fine on the 7″, but others may not. After following these instructions, you will basically be running a 10.1″ UI on the 7″ display. We know there are not many of you that have the tablet yet, but if you get the feeling that you will need some landscape goodness when it arrives, this is how to do it.
Directions for Tablet UI on Nexus 7:
1. Get a file explorer such as root explorer or es file manager(go to settings allow mount rewritable and root access)
2.Then go to system(es file manager just go to the star button on the top left hand side and click on the phone button and you will see the system folder)
3.You will find a build.prop file make sure to make a copy of it and save it somewhere just in case for a backup.
4.Then click on the build.prop and open it with a text editor. (ES file manager has its own)
5. Now scroll down to "ro.sf.lcd_density", or something with lcd density(sorry im at work so i dont have my n7 with me)
6. Now the original lcd density is 213 so the best result for tablet mode is going 170 and below.
7. Save the file by press the menu button.
8. Reboot your N7 and then you got Tablet UI.
For all of you who pre-ordered this awesome device, don't worry, the wait is worth it.
Via: Pocket Now | XDA