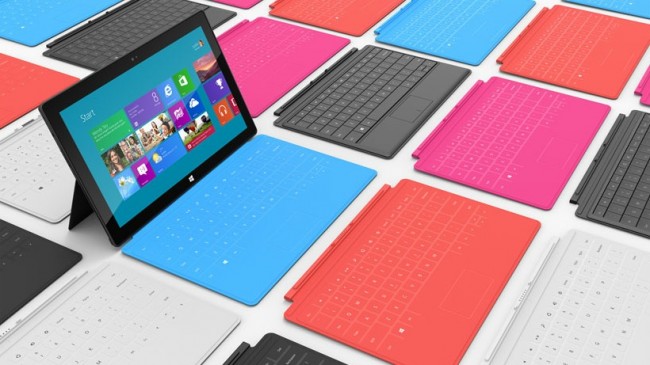 Yesterday afternoon or early evening (depending on where you are located), Microsoft unveiled their next big thing to the tech world, a tablet called Surface. I know, I know what you are thinking, "Just what we need, another damn tablet." This one doesn't look all that bad though. It comes in a couple of versions – RT and Pro. They have 10.6″ HD displays, full USB ports (2.0 on the RT, 3.0 on the Pro), run versions of Windows 8, are incredibly thin (9.3mm and 13.5mm), have a variety of storage sizes (32GB, 64GB, and 128GB), vapor protected finishes and built-in kickstands.
Along with the hardware, they have a really exciting set of accessories as well. See that picture above? It's like a Smartcover for an iPad, only it has a touch sensitive keyboard built into it which includes a multi-touch touchpad.
We aren't sure how much these suckers will cost, but Microsoft mentioned netbooks and low-end computers at some point in their presentation last night, so you can imagine they'll be competitive. Overall, I'd say I came away impressed. Whether or not that means I'll buy one is something else altogether.
What about you? Have any thoughts on Microsoft's latest and greatest? 
Promo:
http://www.youtube.com/watch?v=dpzu3HM2CIo
Live Event: