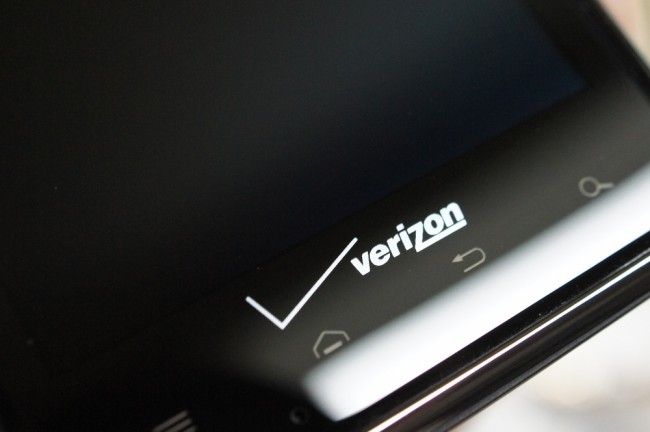 Here they are, folks, shared data plans or as Verizon is referring to them – Share Everything Plans. They just came across the wire and are definitely an interesting approach to wireless plans. This new plan structure will debut on June 28. Let's try to talk through exactly what we have here. 
Verizon is offering unlimited minutes and texting and then adding on set amounts of data at an account level. The fees start with a monthly access fee which is basically where you choose the amount of data that you think your family will use:  1GB for $50, 2GB for $60, 4GB for $70, 6GB for $80, 8GB for $90, and 10GB for $100. Then, you start adding on devices (up to 10) which each come with their own fee:  smartphones for $40 each, feature phones for $30, Jetpacks/USB dongles/Notebooks/Netbooks for $20, and tablets for $10.
For example, if your family has 2 smartphone lines and 1 feature phone ($40 per smartphone and $30 for the feature phone) and you want 6GB of data shared between all of you, add on $80 to the $110 for the devices and your bill is roughly $190 (or a tad more with fees and taxes). If you have a 4G LTE tablet, you can add that to the account for $10. You can also add a hotspot plan on for free (or they are simply included), but just remember, that it pulls from that 6GB of data that you are all sharing.
Here is an an example of what my current plan looks like – 2 smartphones and 1 feature phone on a 700 minute plan with 2 unlimited data packages. We pay $10 per line ($30 total) plus $30 for each unlimited data package and $80 for the 700 minute plan. My bill is roughly $170 each month.
If you go over your data limit, you pay $15 per 1GB. If you need more than 10GB per month to start, you can add on an additional 2GB for $10.
As you can tell, and probably could have guessed long ago, this is a monumental switch off of caring about minutes and texting and focusing everything on data. The minutes and texting are never a worry with these plans since they are unlimited, but you now have to start monitoring how much data your family is using. There is no longer an unlimited option at all and the highest amount of data you can buy per month is 10GB for $100 (unless you add more for an additional $10). If you have the full 10 devices attached to an account, that gives you 1GB per device per month, which as you can imagine, is not a lot.
*We broke this whole situation down into a "basics" type of post that you may want to check out.
*Don't forget, there are ways to keep your unlimited data plan.
*Be sure to vote in our poll and tell us if these new plans would save your money or cost you more.
*We now have info on corporate employee discounts here.
Here is Verizon's site that details everything.
VERIZON WIRELESS UNVEILS NEW SHARE EVERYTHING PLANS FOR BASIC PHONES, SMARTPHONES, TABLETS AND MORE

Share Data with up to 10 Verizon Wireless Devices; Unlimited Minutes, Unlimited Messages and Mobile Hotspot Included in All Smartphone Plans

 BASKING RIDGE, N.J. – Verizon Wireless today announced Share Everything Plans that will forever change the way customers purchase wireless services.  Share Everything Plans include unlimited voice minutes, unlimited text, video and picture messaging and a single data allowance for up to 10 Verizon Wireless devices.  In addition, the Mobile Hotspot service on all the devices is included in the Share Everything Plans at no additional charge.  The groundbreaking Share Everything Plans debut on June 28 and will be available to new, as well as existing, customers who may wish to move to the new plans.

"Customers asked, and today Verizon Wireless delivered an industry first," said Tami Erwin, vice president and chief marketing officer for Verizon Wireless.  "Share Everything Plans are the new standard for wireless service.  They are simple; customers no longer have to think about their voice and message plans, because both are unlimited.  Share Everything Plans are convenient; customers purchase one data plan and they share it with up to 10 mobile devices.  And, they are worry-free; customers can connect their 3G or 4G devices wherever and whenever they want on America's most reliable network."

How Share Everything Plans Work

To get started on a Share Everything Plan, customers first select the devices they want on their accounts.  The next step is to choose a plan that includes unlimited minutes, unlimited messages and a shared data allowance that begins at 1 GB for $50.  Customers adding a tablet on their Share Everything Plans can do so for an additional $10, with no long-term contract requirement. The following matrix shows pricing for an account with several different devices, such as a smartphone, a tablet and a basic phone, billed to the same individual.

Step 1

Step 2

Monthly Line Access

(per device)

Shared

Minutes

Shared

Messages

Shared

Data

Monthly Account Access

(shared with up to   10 devices)

Smartphones – $40Basic Phone -30Jetpacks/USBs/Notebooks/Netbooks – $20Tablets – $10

Unlimited

Unlimited

1 GB

$50

Unlimited

Unlimited

2 GB

$60

Unlimited

Unlimited

4 GB

$70

Unlimited

Unlimited

6 GB

$80

Unlimited

Unlimited

8 GB

$90

Unlimited

Unlimited

10 GB

$100

There are separate plans for accounts with only basic phones, or data only devices such as USB modems or Jetpack Mobile Hotspots at www.verizonwireless.com/ShareEverything.

"When developing these plans, we first asked customers what they wanted in a wireless service plan.  We also looked at the technology and how customers were using it to manage their lives.  And last, we took into consideration the evolution of the technology and how customers would use wireless in the future," Erwin added.  "Share Everything Plans are the outcome of that research.  They cover every device Verizon Wireless offers, from basic phones to smartphones, from tablets to Jetpacks and more.  Share Everything Plans represent a tremendous shift in how customers think about wireless service."

Switch to a Share Everything Plan

Customers are free to keep their existing plans, but there is no fee or contract extension to move to the new Share Everything Plans.  To help customers determine the best Share Everything Plan option, Verizon Wireless has created an easy to use online tool at www.verizonwireless.com/ShareEverything. 

About Verizon Wireless

Verizon Wireless operates the nation's largest 4G LTE network and largest, most reliable 3G network. The company serves 93.0 million retail customers, including 88.0 million retail postpaid customers.  Headquartered in Basking Ridge, N.J., with 80,000 employees nationwide, Verizon Wireless is a joint venture of Verizon Communications (NYSE, NASDAQ: VZ) and Vodafone (LSE, NASDAQ: VOD).  For more information, visit www.verizonwireless.com. To preview and request broadcast-quality video footage and high-resolution stills of Verizon Wireless operations, log on to the Verizon Wireless Multimedia Library at www.verizonwireless.com/multimedia.