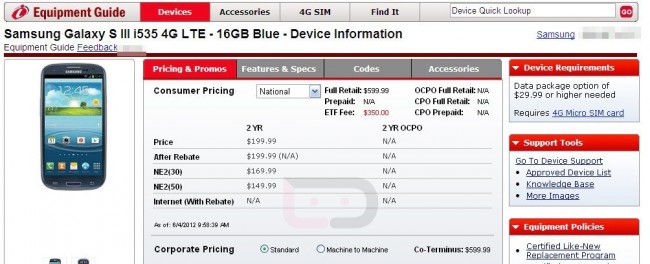 Verizon told us early this morning that the Samsung Galaxy SIII will be $199 and $249 at launch on contract for the 16GB and 32GB models of the device. What they didn't give us was the full retail price, which as many of you know, has become increasingly more important knowing that shared data plans and the end of unlimited data will soon be upon us.  
We still aren't sure when Big Red is going to announce these plans, but as a reminder, once they do, the only way to keep your current unlimited data package is to buy phones at full retail. If you decide to purchase at a subsidized price, you will be forced off of your unlimited data plan and into a shared tier. Depending on if Verizon launches these before the phone comes out, this may be the way you have to buy the phone.
So how much? According to info we received from our sources, the 16GB version will launch at $599 with the 32GB version dropping in at $649. These prices match up to current offerings in Verizon's store and we believe them to be correct and not just place holders. No additional info was given, like an actual release date, but once we have it, we'll be sure to pass it along.
Cheers ___!