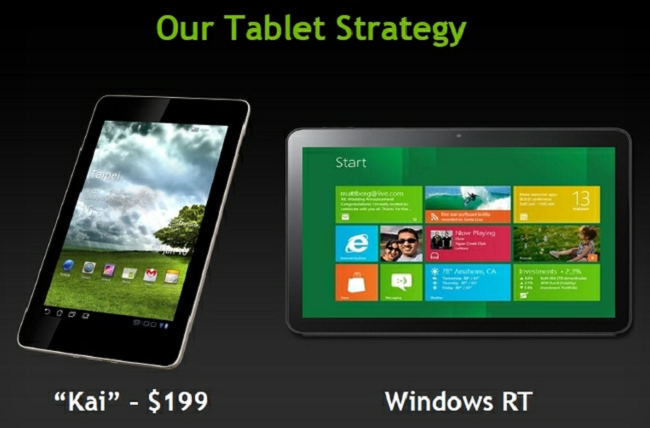 The star of the show at this year's CES was a 7″ tablet that NVIDIA and Asus partnered to create which would meet a price point of just $250. What made it so desirable is that while meeting such a competitive price, it didn't sacrifice in the specs department. It had a low power consuming display and naturally, NVIDIA's quad-core Tegra 3 chip powered the internals. 
According to a semi-recent announcement from NVIDIA's VP, they have developed a platform called Kai which is not just hardware, but a platform at which other companies can accomplish the same thing. The goal is to be able to create a tablet more powerful than the Kindle Fire, but be sold at the same price. NVIDIA's VP said this on the announcement of Kai:
Our strategy on Android is simply to enable quad-core tablets running Android Ice Cream Sandwich to be developed and brought out to market at the $199 price point, and the way we do that is a platform we've developed called Kai. So this uses a lot of the secret sauce that's inside Tegra 3 to allow you to develop a tablet at a much lower cost, by using a lot of innovation that we've developed to reduce the power that's used by the display and use lower cost components within the tablet.
With signs of Google looking to produce a tablet along the same price point and power, could the Nexus tablet be based on the Kai platform and maybe feature a Tegra 3? It's a stretch, but it is starting to look like the Android tablet market is to become very exciting for consumers this summer.
Via: The Verge