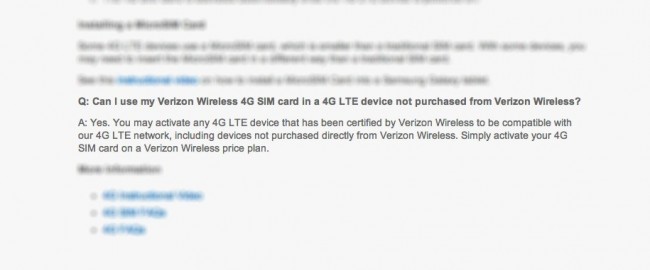 Yesterday's biggest topic was the report that pegged Google as opening up the "Nexus" or lead device game to multiple manufacturers at a time. The plan, according to reports, is to have up to 5 devices (both tablets and phones) ready for the launch of Jelly Bean around Thanksgiving. When ready, they would sell these devices as "unlocked" directly to consumers through the Google Play store, similarly to what they are doing with the Galaxy Nexus today.
As soon as that report surfaced though, people started asking questions. The most important was probably, "Will Verizon ever see another Nexus?" Since all currently available unlocked devices run on GSM networks and Big Red uses CDMA, it's a fair question. However, we brought up the idea that LTE is another animal altogether since we are seeing global LTE networks rollout that all use SIM cards for activation. Theoretically, you could buy another LTE device from another carrier and then drop in a Verizon LTE card and have data service, assuming it ran on the same 700MHz band and frequency. Again, theoretically. 
Thanks to a reader who pointed out the quote that is embedded above, it looks like VZW is actually willing to let this happen. Pulled straight from their 4G SIM support docs page, you can see that "Yes" it is possible to activate a 4G LTE device not purchased from Verizon. However, they claim that it has to be "certified" by them. So what does that mean? Your guess is as good as anyone's. What we do know is that Verizon has already said that AT&T LTE phones, while running on the 700MHz band, actually run at a different frequency than their phones, so you couldn't bring one over and activate it. Hold off on that AT&T One X purchase for a minute.
As far as future Nexus devices go, you have to expect that some (if not all) of this winter's batch will have LTE chips inside. If those fit Verizon's needs or not will be the question with a million dollar answer. In the mean time, we'll see if Verizon will help clarify what it means to be "certified" for their network.
*Note – As a handful of readers pointed out in the comments, Verizon still uses CDMA for voice, so until we get VoLTE (voice over LTE), your phone wouldn't have the ability to place calls. Well, you could use Skype or some other data-centric voice service, but that's not optimal. It's almost like this 4G SIM FAQ is Verizon's way of preparing for the future.
Via:  Verizon Support
Cheers Kris!