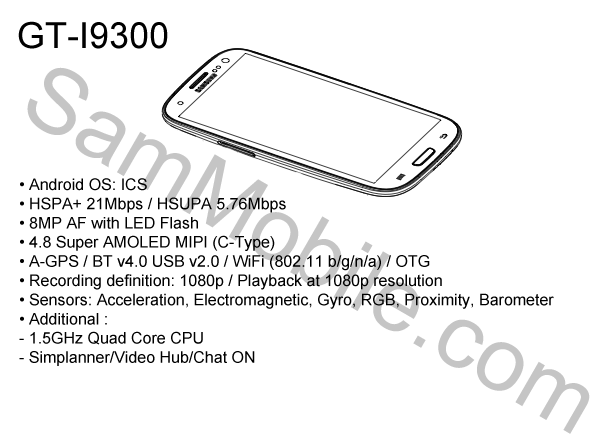 The Samsung GT-i9300, oft-rumored to be the Galaxy SIII, appeared this morning in what is said to be an official user guide for the device. The list of specs looks decent on paper, but it doesn't necessarily match-up with what we know to be official for Samsung's next flagship. Last night, we were told by Samsung that the next Galaxy will have a quad-core Exynos processor clocked at 1.4GHz, yet this page clearly states 1.5GHz.
After that, we see a mention of a 4.8″ display, but benchmarks from the same device are showing it as either 4.6″ or 4.7″. The camera is said to be 8MP, but again, we have seen 12MP mentioned as well. The rest of it looks semi-standard, only it seems odd that they would mention a sensor as being "Acceleration" rather than the correct term of "Accelerometer."
Oh, and then we have a sketch of the device along with this list of specs. Is that a physical home button? It makes absolutely no sense to include a physical home button when their is an on-screen home key, thanks to Ice Cream Sandwich. I personally owned the Euro, unlocked Galaxy SII and hated every second of the physical home button in the middle of the device. Please Samsung, do not bring it back with next Galaxy. 
Thoughts?
Via:  SamMobile