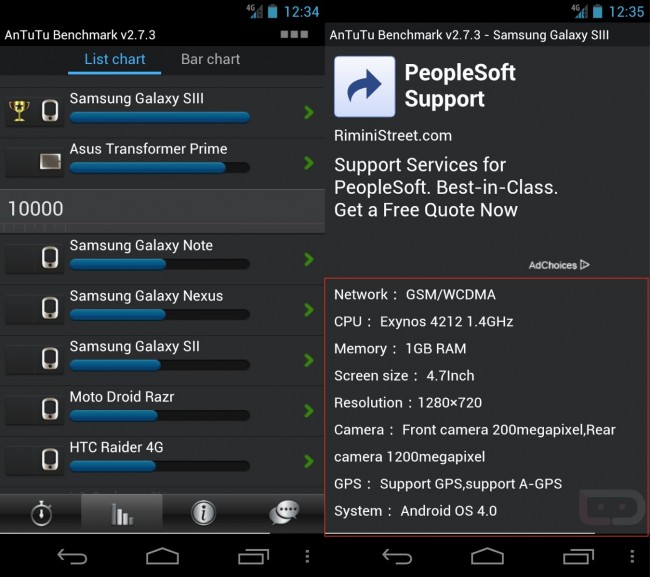 Whoa there AnTuTu benchmark! Are you trying to out the most anticipated Android device of the year? It appears as if you are, and we thank you for that.
As you can see from the screenshots we just posted, there is indeed a device listed now in AnTuTu as the "Samsung Galaxy SIII." It has topped all other devices that have been benchmarked, taking home the gold trophy for performance. If we cruise in the device listing for it, we seem to have a confirmation on specs for the phone, most of which been mentioned here or there throughout the last couple of weeks. We have a quad-core dual-core Exynos 4212 processor clocked at 1.4GHz, 1GB of RAM, a 4.7″ HD display (1280×720), 2MP front camera, 12MP rear camera, and Android 4.0. Yeah, that sounds about right.
One thing to note here is the network which is listed as "GSM/WCDMA." This doesn't necessarily mean that we won't see CDMA or LTE versions of the device, but just that the benchmarked device was only GSM. All we can hope is that this Exynos chipset is playing nicely with LTE or it may be a while before we see it here in the States.
With a teaser for the device already live and a date for unveiling set, we won't have to post these wishy-washy benchmark results much longer.
Oh, and we should probably mention the benchmark disclaimer, as to not offend the Android voices of reason out there. "This is a benchmark result which could easily be faked, blah blah, blah blah."
Update:  As was mentioned in the comments, the 4212 is not a quad-core processor, but is instead a dual-core processor. Now that, is interesting.
Cheers Nadeem!