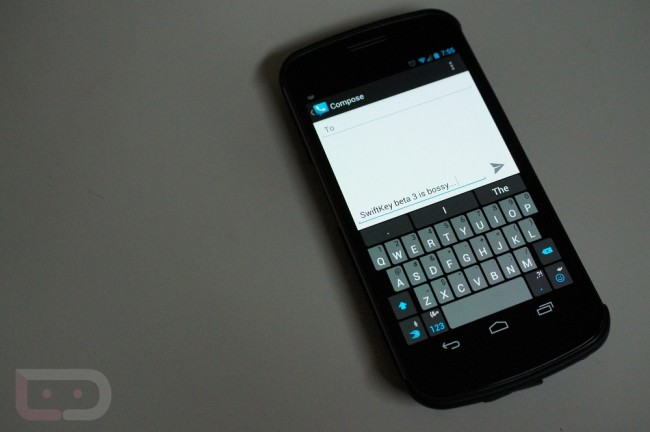 It has long been documented that Swiftkey is the top keyboard amongst users here at Droid Life. When it comes to predictive texting, nothing comes even close to it. Today, Swiftkey released beta 3 of their increasingly popular keyboard, taking their lead in the non-swiping space and extending it. In this latest update, you will find what they are calling "Smart Space," which is sort of like the ICS keyboard's Blindtype. You can type and type and type and it will figure out the sentence you were attempting even if you failed to put spaces in between words. They also tossed in two new gorgeous themes, quicker symbol selecting, backups of dictionaries, and more. 
Smart Space – We've revolutionized SwiftKey's language engine to cope with missed or mistyped spaces across long strings of sloppy text. So, even if you make lots of typos and miss multiple spaces, it'll still make sense. For example, "Lleasexqllme" becomes "Please call me" or "Swidykeuvroxla" becomes "SwiftKey rocks"!
Two stunning new themes – our 'Cobalt' default theme, and the ICS-inspired theme you voted for, called 'Holo'.
A larger spacebar – We joked about it, but here it actually is. One of the largest spacebars you'll find on a touchscreen keyboard.
Smart Symbol – No long-press required, just slide left off the period to quickly access common punctuation.
Back-up – Worried about losing your learned words? SwiftKey 3 now supports the Android Backup Service*, meaning your learned language data is saved by Google into the cloud if you opt in. Never lose your personal dictionary again! (*if this service is enabled on your device)
Smarter punctuation – Smart, language-specific punctuation (for example: Bonjour !).
New Features:
Swiftkey 3 vs. ICS Keyboard:
Download today from the Swiftkey VIP forums.