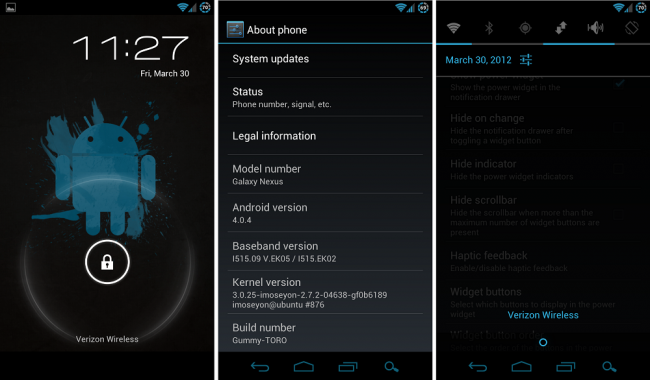 With the Open Source Project receiving Android 4.0.4, we have already started to see an influx in builds based on the source and not so much the leaked code. One of more popular development teams, Team Gummy, has begun releasing test builds based on the 4.0.4 source code.
Along with it being based on 4.0.4, you will find plenty of awesome features such as custom lockscreens (including Honeycomb), ability to change the color of the top navigation bar along with the bottom navigation buttons, and other goodies. If you feel the need to be running some brand new Android and Gummy-goodness, we have listed out the downloads and instructions below. 
Instruction on installation:
Download the Toro 4.0.4. Test Build zip file.
Download Google Apps zip file.
Place them both on your phone's storage.
Reboot into ClockworkMod Recovery.
Create a Nandroid backup immediately.
Wipe both data/cache.
Install ROM zip file, then GApps zip file.
Reboot and enjoy!
If you have any questions or need help flashing, just let us know down below and we will help you out.
Via: Team Gummy