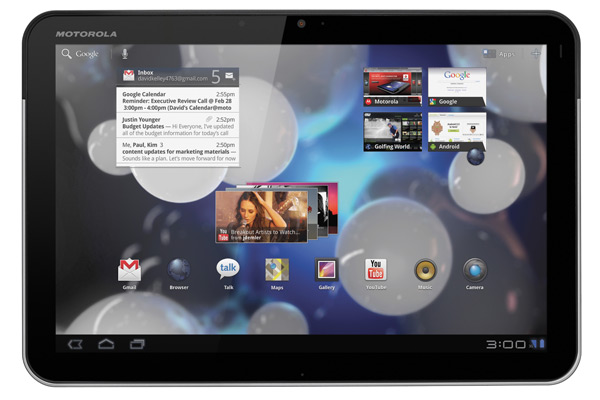 Last week, we received word that Motorola was prepping a "soak test" for the XOOM WiFi, but specific details as to what was included were absent. A message we received in our inbox this evening may change the mystery, as it details a 4.0.4 update that should be here any day. According to this tip, the Android 4.0.4 build number is IMM76 and will include quicker screen rotation, a new setting to immediately lock the screen, camera improvements and more.
We do not have a date of expected release, but with notes like this floating around, we can imagine that it won't be too much longer. Check out the email after the break. 
Android 4.04 (IMM76) Software Update for the Motorola XOOM™ WIFI users in the US
Introduction

We are pleased to announce a new software update for the Motorola XOOM™ WIFI in the US. This Android 4.04 (IMM76) software update by Motorola includes numerous enhancements. Upgrade today for peak performance.

For more information on Motorola updates and product support, please visit us at: www.motorola.com/support

Who Can Use This Release
ALL Motorola XOOM — US WIFI users

After downloading and installing the software release, you will notice:

Enhancements:

Quicker screen rotation
A new setting to choose whether the power button immediately locks the device or not
Microsoft Exchange improvements with additional EAS policies
Better phone number recognition
Camera and image quality improvements
Improved stability
If you own a XOOM WiFi and are prompted with an update, be sure to let us know.
Update:  Download the update here.
Cheers IC!