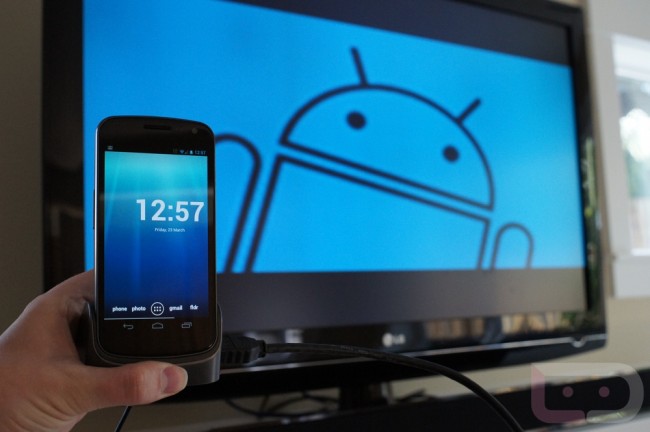 Here it is, the portrait HDMI Desktop Dock for the Samsung Galaxy Nexus. After months and months of waiting, a couple of retailers have brought it to our shores for your friends here at DL to poke at. It will run you $60 plus shipping, so the big question you all have is, "Is it worth it?" Let us find out. 
Before we get started, a brief overview of the dock itself is in store. It's made of really solid plastic in a similar color to the phone itself, has a non-slip rubber grip pad on the bottom, a microUSB port on the back, full HDMI port on the side, and that's pretty much it. It doesn't have space for an additional battery to charge like some docks and there isn't an audio-out cable like on the POGO dock – HDMI and microUSB is it. Overall, the build feels nice and looks as good as the Nexus.
Extended battery support? Yessir, the Galaxy Nexus LTE fits perfectly in the dock even with the extended battery attached.
What about functionality? This is where things get a little tricky and potentially incredibly disappointing. The dock works wonderfully as a charging mechanism, but the HDMI port and its capabilities are limited. All you can use HDMI-out for on this device, is to watch movies. I'm not kidding. You won't find HDMI mirroring anywhere near this pup, something the instruction manual says as clear as day (photo below). Also, if you plug a microUSB from the dock to your computer, you can't sync files or move things around. They actually recommend that you do not try to charge your phone through the dock and a computer. It's a charging dock that can play videos to your HD device and nothing more.
Worth it in the end? Until a developer finds a way to unlock full HDMI mirroring capabilities, the HDMI-out portion is essentially worthless for every day use. Sure, it works well for watching videos that you have recorded on your phone , but how often does one actually do that? And without the ability to sync to a PC, it really is only good for charging. It looks nice and charges well, but at $60, you may want to pass on this one.
Gallery:
Video: