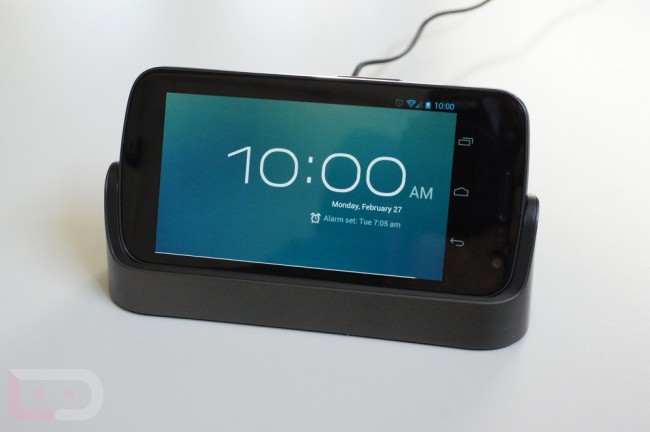 On Thursday, one of our readers noticed that the Galaxy Nexus Pogo Dock was available to be ordered, so naturally, we jumped on it. Ours arrived this morning and we have already had enough time to play with it a bit and put together this video to give you guys a sense of its worth. As one of the more expensive docks we have ever seen, it must do something extraordinarily special, right? Not so much.  
The build quality is of the highest, the device fits snuggly, and it does indeed charge through the 3-pins on the side of the device. The clock app launches automatically when docked and you can plug in headphones or a 3.5mm cable to play music externally. You can hook it directly up to a PC, but it doesn't initiate the file transfer protocol and you can't use adb. The extended battery does fit. Cases, probably not so much. So is it worth buying?
At $90, this sucker is not cheap. With its lack of HDMI-out like the portrait dock that may some day arrive, it would be tough for me to tell anyone to jump all over this. In the back of my mind, something keeps telling me that the price has to drop when it hits Amazon or Verizon or some other outlet. While I can see myself using this by the bed or on my desk every single day, $90 is a bit much.
Gallery:
Video overview: