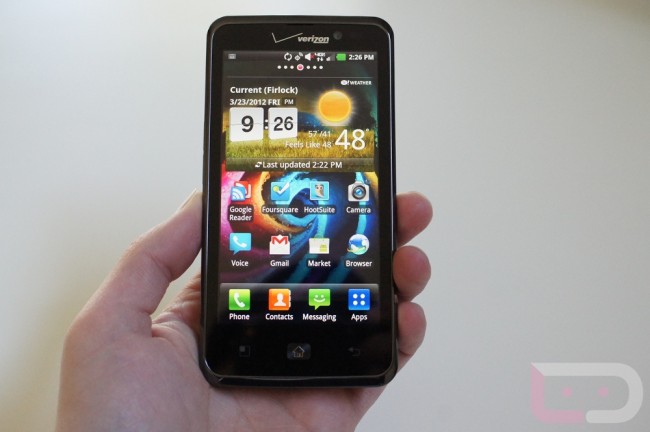 Our LG Spectrum review, almost 3 months in the making. Why the delay? Was the device so good that we couldn't bring ourselves to give it up? Or was it that bad that we couldn't force ourselves to use it enough to put together a full review? If I told you up front, that would ruin the magical anticipation that is built when I attempt to leave you hanging with some fun line like, "We will find out after the break!" With that said, jump past the break to find out. 
The Good:
Specs:  With its 1.5GHz dual-core Snapdragon S3 processor, 1GB of RAM, 4.5″ HD display, 8MP shooter, 4G LTE capabilities, and decent sized battery, the Spectrum should be considered a "top tier" phone. LG wanted to make a splash with a high end phone on Big Red and they have done that here, at least on paper. The specs match up to the HTC Rezound, DROID RAZR and Galaxy Nexus for the most part, yet the price falls below 2 of the 3.
Display:  At 329ppi, the Spectrum's 4.5″ HD display is nothing short of beautiful. As you will see in the macro shot below, this is one of the better LCD screens on the market, rivaled only by the Rezound and maybe the iPhone. The IPS displays that LG is using on almost all of their phones now should be seen by all tech obsessed consumers. When compared to the Galaxy Nexus, I found the Spectrum to have far brighter whites and overall crisper view of just about everything. This is obviously a personal take after comparing the two side-by-side.
Price:  At $199 on 2-year contract, this phone is priced well. Most 4G LTE phones from Verizon with these kinds of specs start at $249 and go up from there. Got to give it up to whoever made the decision to undercut everyone else on this one.
Cameras:  The cameras aren't anything to write home about, but they also won't disappoint. In the few photos I snapped, I wasn't disappointed nor was I overly impressed. The Spectrum has a good enough 8MP shooter on the back and an upgraded 1.3MP camera in the front for video chatting. Both will get the job done while also not embarrassing you should you decide to share your photo adventures with friends.
Weight:  This phone is incredibly light. It feels amazing in hand as long as you try to ignore the cheap plastic materials that got it to this point. Heavy phones were once unavoidable, so I'm glad that companies have realized that tanks only belong on battlefields and not in your pocket or hand. LG did a nice job at packing in top tier specs while keeping the phone in the slim and manageable category.
Battery:  We have written about this more than a dozen times, but the current crop of 4G LTE radios are going to kill batteries at feverish rates. Companies like LG have realized this and started trying to pack in as big of a battery as they can into new handsets. The Spectrum boasts an 1830mAh battery that should come close to getting you through at least a work day. It won't take you into 2 or 3 days like the DROID RAZR MAXX, but very few phones will. In our battery tests, even with the massive 4.5″ HD screen, this phone was on par with the Galaxy Nexus and Rezounds of the world.
4G LTE:  Since Verizon has decided to not accept anymore non-4G LTE phones onto their network, we can probably stop giving props to phones that have it. Well, maybe not until other carriers finally roll out real LTE networks in more than 12 markets. Since Verizon is covering the U.S. faster than most of you can type "long term evolution" it's definitely a selling point. Big Red's LTE network is awesome (assuming it isn't down for today) and the Spectrum takes full advantage of it with its HD screen and exclusive HD content, like ESPN's Scorecenter.
HD Content:  Speaking of that exclusive HD content, it wouldn't be fair to the Spectrum if we didn't mention it specifically in its own bullet point. Watching full 720p HD ESPN highlights on this 4.5″ display is wonderful. And since no other phone currently has access to it but the Spectrum, you have to give it a +1.
Gaming:  With its dual-core Snapdragon processor, 1GB of RAM and big 4.5″ HD display, gaming on the Spectrum is a bonus. As devices have grown in size, playing games on them should be more fun, right? At 4.5″, this is creeping towards being a mini tablet, but gaming on tablets has replaced most handheld gaming devices, so that's not a negative. Fruit Ninja with multiplayer, the new Angry Birds Space, and your other favorite titles will all look amazing on this phone.
The Not-so-Good:
LG's Custom UI:  I'm not sure what they are calling it these days, but LG's custom skin that has been slapped on top of Android has become the king of spam and unnecessary bloat. It's slow, it looks like a cartoon, and will frustrate you should be forced to use it. The dock isn't customizable at all and the app drawer's layouts make no sense. Thankfully, LG appears to have ditched this version of their skin on their next line of phones that includes the Optimus 4X HD in favor of a much more simplified and stock-looking UI. If you do buy this phone though, you will want to install a 3rd party launcher immediately.
Build:  During my unboxing, I compared the build of this phone to the DROID Charge and still can't think of a better way to describe it. The plastic back piece feels just like the one on the Charge, and that's not a good thing. I don't know that I'm ready to go as far as to call it "cheap," but it is close. After using the phone on and off for a month or so, I already managed to scuff the battery cover by simply pulling it in and out of pockets. That is not a good sign for a phone that is meant to last you 2 years. I love how light the phone is, but am not a fan of the products used to make it feel this way.
Performance:  It's tough to tell if the UI or something mixed into the hardware is to blame, but this phone lags like none other. And not only that, but screen presses almost always take a second or third press to make something happen. What I mean, is that if you press an icon or swipe down the notification bar, rarely does anything happen on the first press. It takes another swipe or two to get some of these basic smartphone actions to activate. Talk about frustrating on a phone that has one of the biggest and most beautiful touch displays around.
Gingerbread:  The phone was released in January, so it would have been difficult for LG to put Ice Cream Sandwich on it at launch. However, it's now March and there hasn't been a peep from the company as to when this phone might see that update to Android 4.0. We are sure it will happen, but it could be a while as LG is focused on promoting their next line of phones already, that just so happen to run ICS.
Bloatware:  Since LG's custom UI groups apps in the oddest fashion, our bloatware count was super easy this time around. The Spectrum has 16 pre-installed "Verizon" apps and another 4 or 5 apps that you wouldn't find on a stock device, bringing the total to over 20. SMH.
Unboxing:
HD ESPN Content:
Gallery:
The Verdict:
If we go back to our opening paragraph, we should probably give you an answer as to why this took me almost 3 months to complete. Was it because the device was so awesome that I didn't want to have to give it up or was it so painful that I struggled to find the time to actually review it? Unfortunately for the Spectrum, it had to do with the frustrations I continued to run into while using it. After carrying the device around as my daily driver for about 4 or 5 days in January, I quickly became frustrated and had to put it down for a bit before coming back to fully review it.
The UI on here – if I didn't make this clear enough already – is the worst in the Android game. For a device that wants you to "ooh" and "aww" over its screen, then pressing on that screen should work the first time. Swiping, pressing icons, and any sort of touchscreen movement on the Spectrum rarely works on the first try because of this awful custom skin. The phone also hated my Google Voice or contacts from Gmail for some reason, as it rarely showed the person's name during an incoming call. It also managed to pull in contacts from all of my Gmail accounts even though I told it to stick to just one of them. It's filled with bugs and lag on the software front that could potentially be addressed through an update, however, LG hasn't had the best track record when it comes to making those happen in a timely fashion.
It's not all bad for the Spectrum though. In fact, if you read all of the bullet points above, we actually rank most of the aspects of the phone pretty high. The camera is acceptable, LTE is always awesome, the screen is absolutely gorgeous, and the battery life isn't all that shaky. At $199, this phone is at least worth a quick look if you are not quite ready to toss out 3 Benjamins for a smartphone. A third party launcher could rid you of LG's skin for the most part, and if LG does get it together and update this phone to Ice Cream Sandwich quickly enough, it could be a decent player.
LG Spectrum Specs | Other Spectrum Coverage