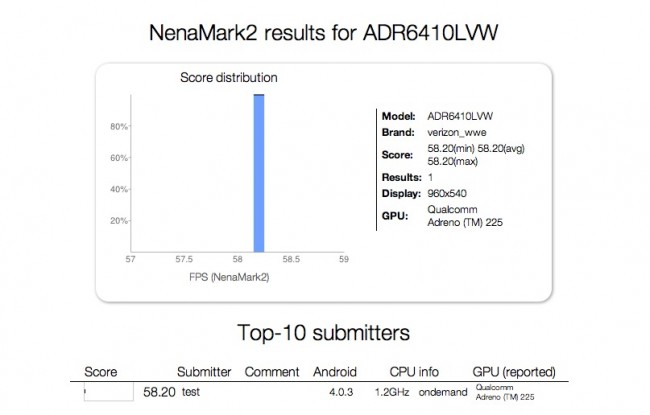 We have been on the hunt for the DROID Incredible 4G dating back to late 2011 when we first reported that a new device had popped up in a Verizon system dubbed the "HTC Fireball." Little was known about the phone then other than a model number of ADR6410LVW which was a pretty good indicator that this phone could be some sort of a follow-up to the Incredible 2. Pictures of a device later leaked that we assumed was the Fireball since it had similar styling to the rest of the Incredible lineup and VZW had nothing else planned from HTC that we were aware of. The specs failed to impress at that time, which had us crossing our fingers that magical hardware changes were in store. That apparently will not happen if this weekend's NenaMark benchmark for the device is to be believed. 
What we are seeing above matches up to the previous leak – 1.2GHz dual-core processor, Android 4.0.3, and Verizon. Two things that we need to discuss though:  the processor a little more deeply and the qHD display. As far as the processor goes, NenaMark shows it with an Adreno 225 which is the same GPU seen in Qualcomm's Snapdragon S4 chipsets. It's powerful, something that can be seen in this test result, but we aren't sure why it has been clocked at 1.2Ghz. Most S4's are clocked at a minimum of 1.5GHz, so we are a little confused. Is it underclocked to improve battery life that much more? Potentially. The only thing we should point out is that Qualcomm does have a dual-core S4 that can comes clocked at 1.2GHz, only it has their new Adreno 305 GPU on board. That particular SoC is not ready yet to our knowledge, and the benchmark clearly states "225" so let's just move on and assume it's an underclocked MSM8960. (Dirty details about this chipset here.)
The other thing to discuss here is the display. What's up with the qHD display? With almost every other high-end phone rolling in with 720p HD displays – including the HTC Rezound from 2011 – we can't figure this one out. Cost cutting measure? The Snapdragon S4 is a bump over the S3 that is in the Rezound, but a qHD display is a bit of a downgrade.
We are wondering now if Verizon is simply trying to keep the cost down on this device and then potentially make it their first official "global ready" 4G phone.
The current target for release that we have seen is April 26.
Via:  NenMark, Ameblo