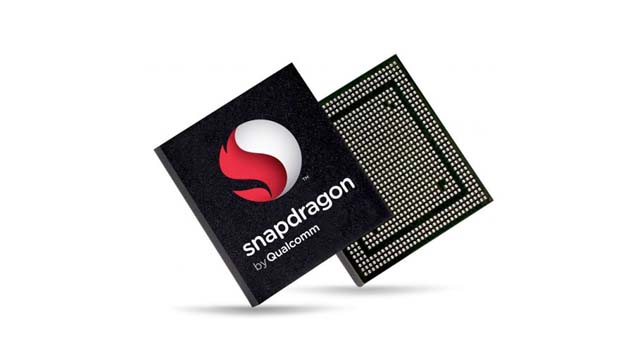 The crew over at Anandtech got a hold of a developer unit from Qualcomm that runs their Snapdragon S4 processor, aka the Krait, and put it through a series of benchmarks. This is the MSM8960 chipset that is dual-core and clocked at 1.5GHz. So no, this isn't the quad-core Krait that we will potentially see later this year, but none the less, you will likely be impressed since they have been designed for 28nm process. That essentially means that they will perform at incredibly high levels while consuming very little power when compared to other chipsets (current Tegra 3 is still 40nm). This is the future of processors even if this particular chipset is only dual-core. Don't let the lack of "quad" attached fool you. 
One of the first benchmarks they ran was the a Linpack multi-threaded benchmark which may put your jaw to the floor. Yeah, it's that impressive. The next closest device is the Qualcomm developer unit from last year that ran a Snapdragon S3. The Galaxy SII and DROID 4 (which is surprising) are the closest retail devices. And again remember, this is only a dual-core processor, yet it doubles the performance of every other dual-core device on the list.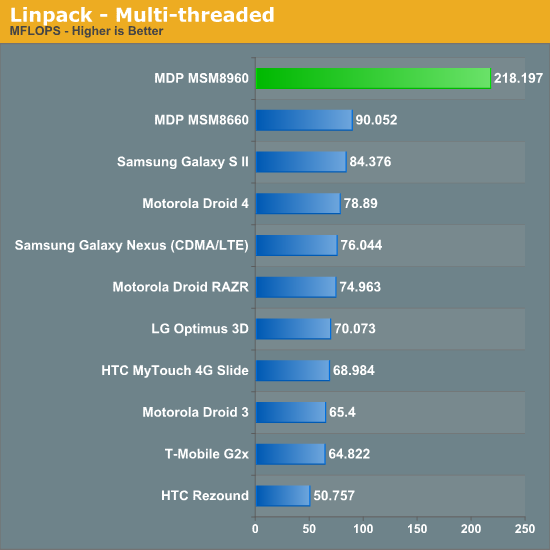 The only area that the Snapdragon S4 did not blow minds was in GPU tests. Since it includes an Adreno 225 GPU rather than Qualcomm's next-gen Adreno 300+, it's not all that surprising that it didn't blow away the iPhone 4S. The difference between the 225 and the 220 that you have seen in a number of Snapdragon S3 devices, is really just a speed bump. It still performs better than any other phone currently available, but it's the next Krait releases that we will really see the GPU performance jump off the charts.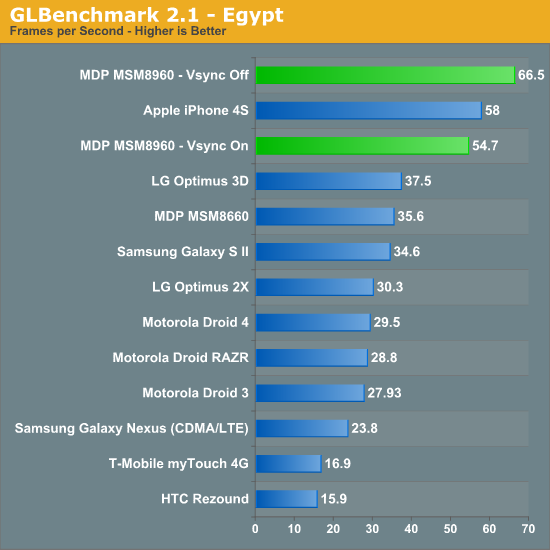 We are supposed to see phones with the Snapdragon S4s ship within the quarter. Rumors have it that the HTC Ville could be the first, a device that we are fully expecting to see at MWC in a week. Don't think that because HTC has tossed a Tegra 3 into the Endeavor that they will abandon their lenghty partnership with Qualcomm. And don't even think about snoozing on the Ville because it says "dual-core" if indeed it does have the S4 inside.
Via:  Anandtech