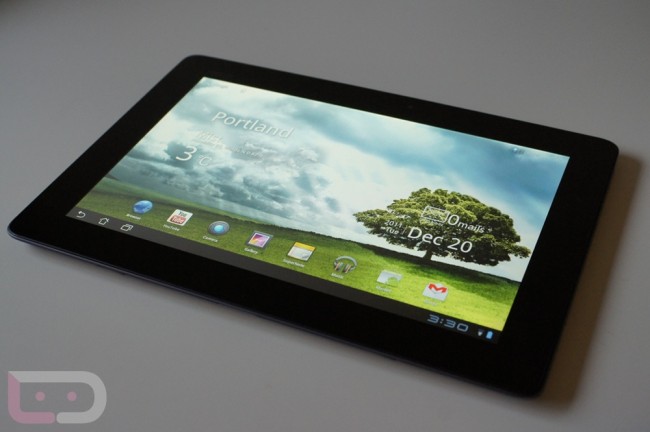 We are teaming up with NVIDIA once again to offer you all a chance to win the top Android tablet on the market. The Transformer Prime along with its matching Lapdock station, was the first tablet in the world to sport the powerful quad-core Tegra 3 processor, capable of delivering an Android experience no other slate can. With the unparalleled gaming experience that the Prime and NVIDIA's Tegra Zone can deliver, this tablet should have been on everyone's Christmas list. But don't worry if Santa didn't bring you one, here is a another chance (for two of you) to receive one along with a docking keyboard station.  
Update: We have our two winners:
Sirlandry – I want a real pad to learn Android development and possibly effect the community in a big way with some fresh ideas and ways of thinking!
ONeal Pierce – Would be great to finally get a tablet.  Using my Thunderbolt screen is ok but would like larger screen, without lugging around a laptop on the road for work.
How to enter: (do as many of the following as possible, #4 for sure)
1.  Follow both @droid_life and @NVIDIATegra on Twitter.
2.  Tweet the following message:
Want to win an Asus Transformer Prime? Check out @droid_life and @NVIDIATegra – http://goo.gl/BgBTJ #android
3.  Like Droid Life on Facebook.
4.  In the comments, tell us why you want an Android tablet instead of the new iPad.
Entry period:
You will have from the time of this posting, through Monday (3/19/2012) at 8AM Pacific to enter. U.S. entries only.
Prizes:
Two winners will both receive 1 (one) Asus Transformer Prime Android tablet along with 1 (one) Lapdock Station.
Winners:
Two winners will be picked randomly on Monday (3/19/2012) at 9AM and announced shortly thereafter. The winner will be contacted through their choice of entry (Twitter, Facebook or comments).
Good luck everyone!
Huge thanks again to NVIDIA for hosting the prizes! Be sure to check out the Tegra Zone for some of the best mobile games you will find anywhere.