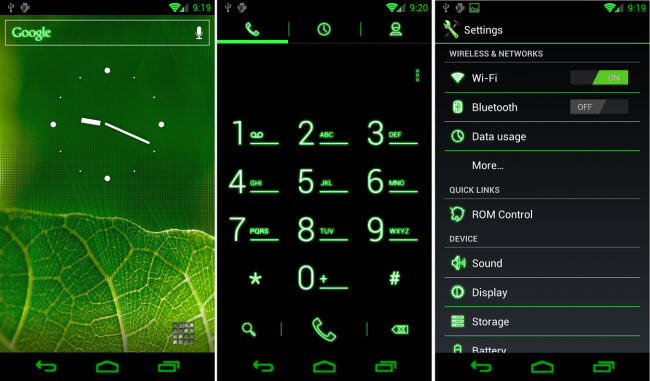 Custom ROMs are great for having a ton of extra features and abilities, but what about when you want to change the look of your entire handset. That's where custom themes take over. This particular one called Glowing Green, comes from developer Kevin3328 and it will make your Galaxy Nexus stand out bright green in a sea of blues.
Turning all system controls and apps into a nice bright shade of green will be perfect for those people who celebrate St. Patrick's Day throughout the year. And with the greenest of all the holidays coming up, now would be a good time to flash it. Below we have installation instructions and the zip files for you to download and install. 
Note: We know Milestone 4 has been released , but the theme has not yet been updated. Bookmark the forum page so you can flash the theme later once it has been updated if you wish. Thanks.
Instructions for installation:
AOKP Build 25 | AOKP Build 26 | AOKP Build 27 | Milestone 3
Download the zip file that matches which AOKP build you are running.
Place zip file on your phone's storage.
Reboot into ClockworkMod Recovery.
Create nandroid backup immediately.
Locate zip file on storage and install.
Reboot and enjoy.
If you have any questions, feel free to ask them below and we will do our best to help you out.
Via: RootzWiki