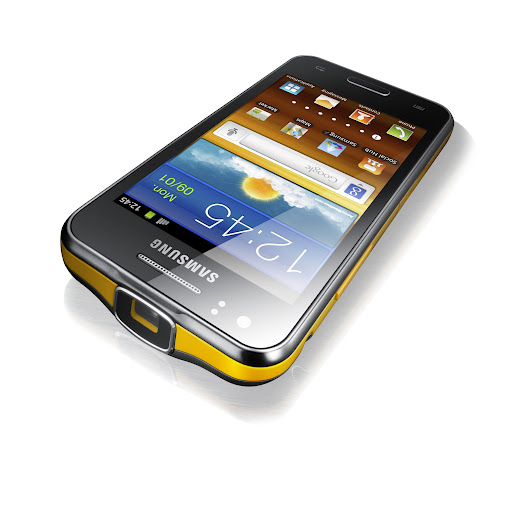 The other announcement from Samsung so far at MWC – aside from the disappointment Galaxy Tab 2 (10.1) – is an interesting phone, to say the least. It's called the Galaxy Beam and includes everything that you have come to expect from a smartphone now a days, but Sammie then packed a projector inside. That's not a type-o. This phone actually has a real projector inside that can project video, pictures, or other media onto just about any wall or flat surface. Think about that for a second. Wherever you are with this phone, you can essentially beam a 50″ representation of your screen onto a wall. It's tough to tell how locked up the feature is, but I'm just imagining what devs could potentially do with this.
Other than the projector, the Beam sports a dual-core processor, 6GB of RAM (that's what the spec list says and has to be an error), 5MP camera, front camera, 4″ WVGA display, 2000mAh battery, and Gingerbread. It's no HTC One X, but it's not bad.
Is anyone even slightly interested? Projector, baby?  
Share the Fun with Samsung GALAXY Beam

February 26, 2012

Samsung's projector smartphone offers unforgettable shared experience for playing multimedia content anytime, anywhere

Barcelona – February 26, 2012 – Samsung Electronics Co., Ltd, a global leader in digital media and digital convergence technologies, today introduced Samsung GALAXY Beam, the projector smartphone that allows users to display and share multimedia content anywhere on a large luminous projector screen.

GALAXY Beam lets users spontaneously share photos, videos or other digital media with family or friends by beaming content stored on the device directly onto walls, ceilings or improvised flat surfaces, so that everyone can share the fun without the need to huddle around smartphone or pad-sized screens. GALAXY Beam's ultra-bright 15 lumens projector allows users to freely share life's memorable moments instantly and in crisp clarity, even in outdoor environments.

"GALAXY Beam provides mobile freedom, enabling a unique shared experience around digital content for everyone—anywhere and instantly—from a smartphone as slim and portable as any on the market," said JK Shin, President of IT & Mobile Communications Division at Samsung Electronics.

"GALAXY Beam is a device borne out of Samsung's insight and innovation, demonstrating Samsung's commitment to providing extraordinary experiences for consumers with products that let them express and fulfill themselves."

Video clips, maps, business information, games – a whole range of multimedia content can be beamed instantly by GALAXY Beam on a crisp, high-definition projection up to 50'' wide. The device features a projector-dedicated application which makes it easy to select content and activate projection in a few simple steps.

Add a dose of ambience or entertainment to a friends' gathering by transforming any household room or outdoor deck into an instant mini home-theater, projecting full-screen video clips on a ceiling or wall for common sharing, at the touch of a button. Or capture your favorite holiday moments using the GALAXY Beam's 5MP camera, then display a full photo slideshow to family members on a dining room wall while playing accompanying music straight from the device, so that everyone shares the experience.

For young users who depend on constant, immediate socializing of digital content and entertainment, GALAXY Beam introduces a new way of sharing. It becomes much more than a phone—a handy digital tool, deployable anywhere, which can add visual entertainment to a simple street gathering, set the mood for a small party, or simply turn life's moments into something personally and immediately sharable. With GALAXY Beam, a birthday or anniversary party can be enlivened in seconds by sharing YouTube or Hulu music videos straight onto a ceiling or door. Likewise, students can collectively share videos or study-work in any dormitory room or student lounge, turning group study into a whole new interactive experience right from a desk table or from the palm of their hands. GALAXY Beam is also ideal for action-packed interactive gaming: Users can upload their own games or choose from over 1,000 games available via Game Hub, Samsung's dedicated virtual gaming store, then project games to co-players or observers to turn gaming into an unbeatably interactive, shared experience. Additionally, GALAXY Beam is convenient tool for mid-sized business workers. An estate agent can beam images of candidate properties to customers as they tour them; or an architect can display draft concepts or designs to co-workers on the spot at a building site or public location.

Despite featuring a full built-in projector, the GALAXY Beam does not compromise on style or portability, measuring just 12.5mm thick and featuring an elegant, ergonomic design. It runs on Android 2.3 Gingerbread which is powered by an impressive 1.0GHz dual-core processor, ensuring great versatility and a highly responsive user interface. An impressive 8GB of internal memory allows ample multimedia storage without compromises, and a powerful 2000 mAh battery ensures greater display power and content freedom.

The GALAXY Beam is exhibited at Samsung stand (Hall 8), Mobile World Congress 2012. For multimedia content and more detailed information, please visitwww.samsungmobilepress.com.