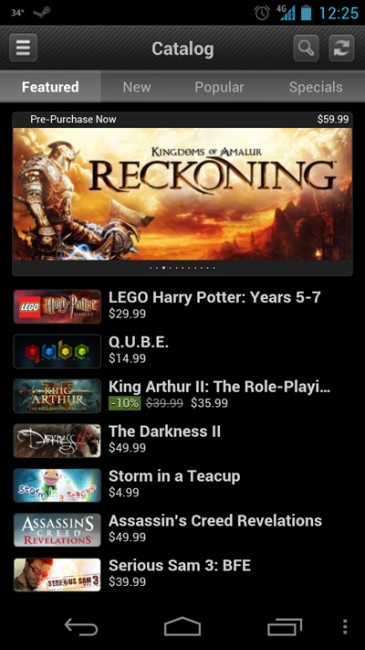 There was a reason why I said that Valve was one of my favorite companies yesterday. We got hooked up with access to the closed beta of the Steam Android application that hit the market yesterday and all I can say is "wow." The app was tested on my Galaxy Nexus and has worked perfectly and better than expected on every aspect of the app, bringing all of the functionality of Steam to your phone, except for the part where it does not play Skyrim.
Compare this to the application that Activision pushed out for Call of Duty: Elite last week and it is almost laughable. From the very moment you boot up the app it works great; no lag, screen resolution sizes to the monster screen and it runs smoothly. You are first taken to the Friends screen where you can open up an instant message and chat with anyone that is online in your Steam friends list. Which means you could be out getting coffee chatting with your friend as he is playing Modern Warfare 3, very cool. But, if you do not want this running in the background you can easily turn it off to save you some battery life.
And then comes the main part of Steam, the store. You can browse though what seems to be their whole catalog and pull up games that interest you. You can even purchase them on your phone and the game will download onto your desktop the next time you login. You can look at Metacritic scores, screenshots and tons of other things for every game in their library. The amount of depth that Valve went into with this application is stunning, and it's only in beta.
There are a few things that do not work, but they are pretty hard to find. Overall, this is how you do a video game application on Android. Too often have we seen companies try and cash in with half-baked apps. But Valve sticking with their overall dedication to making things right, has done a fantastic job on this. I cannot wait until this leaves beta and more people get to experience this great app.