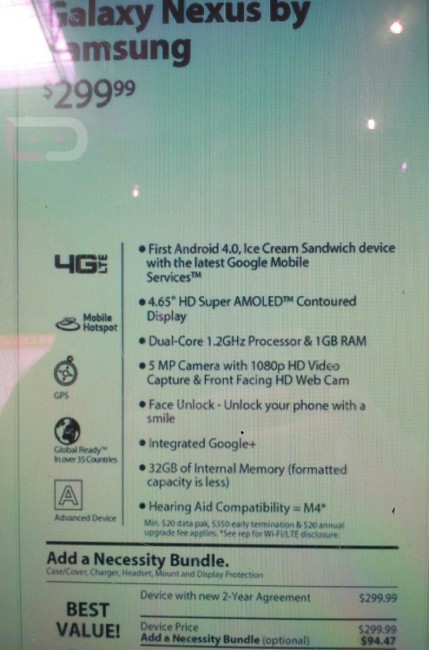 With no release date in sight for the Galaxy Nexus, we at least have a solid idea of what the price will be on contract. Verizon shelf slips are most definitely listing the phone at $299 on new 2-year contract, something we have expected it to be for quite some time. You will have to trust me that full retail is $649, it just couldn't fit into the picture.
In related pricing news, we have word out of Costco's camp finally. According to a reader that stopped by his local store, the display model had a price of $289 attached that includes an accessory bundle. What was in the bundle? From what he saw in store, it's not as eye-popping as some of the previous bundles we have seen and should get you a "leather pouch, car charger, and screen protectors."
Still no word on a release date. Cross your fingers that Verizon's 4G LTE network holds up for the next 24 hours or so and you never know what could happen.
Cheers Eugene and Harish!