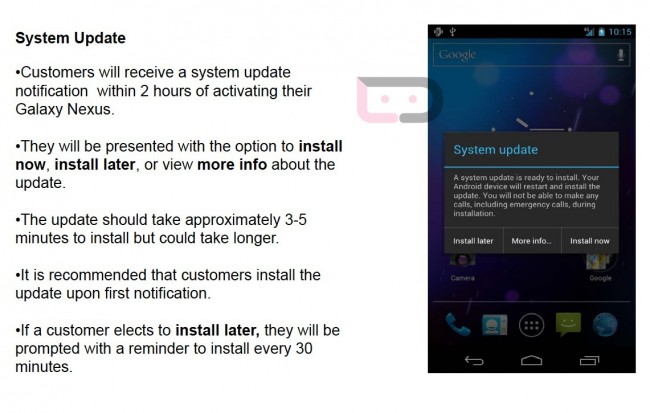 When you cruise into a store to pick up your Galaxy Nexus on Friday, December 9, you will be prompted to update the OS within the first few hours of activating. We are sort of guessing here, but would expect that to be Android 4.1 that hit test devices last week. According to the document above, it does not appear to be very large in size – should only take 3-5 minutes to install. Whatever is included must be some sort of fix to the issues that were holding this phone up.
Below, we have a look at the accessory lineup that should mostly be available at launch. Many of you will be excited to see an extended battery of 2100mAh with NFC capabilities on the list. It also doesn't appear to have those sharp jagged tank edges and extensions that the Rezound, Bionic and Thunderbolt all had. You may be able to throw this battery on your phone and not be the inside joke of your friends. Otherwise, it's most of the stuff you all saw in the video demos of accessories from late last week, but know that the portrait HDMI may not be ready just yet. No landscape dock either.  
And here is one more look at specs to help button things up.
Everyone ready for this?
Cheers ___!