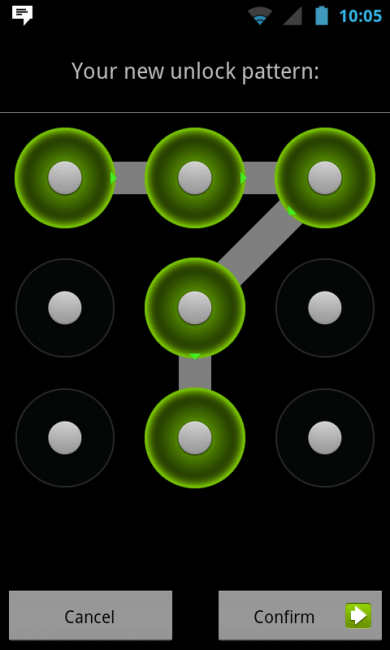 There are many key characteristics that the untrained eye would use to differentiate an Android device from an iOS handset.  One of those things would be Google's pattern unlock feature shown above which came standard on the first Android devices shipped.  Finally, the United States Patent and Trademark Office has granted Google a patent for their pattern unlock feature which is now available on almost all Android phones.  It is titled, "Touch Gesture Actions From A Device's Lock Screen", and it reads as follows: 
A lock screen view is displayed on the mobile device to prevent unauthorized and inadvertent access to the mobile device's data. While the mobile device is locked, a touch gesture having a pre-defined shape is detected on a touch screen of the mobile device independently of the initial position of the touch gesture on the touch screen.
Interesting enough, Google was also given a patent based on possibly a new up-and-coming feature which we'll potentially see down the road.  The ability to draw a custom shape anywhere on the device to unlock?  "Automatic Derivation of Analogous Touch Gestures From A User-Defined Gesture" talks of the device being able to decipher shapes/patterns anywhere on the lockscreen regardless of size, shape, or position.  If anyone is familiar with CyanogenMod, you may already know about this, but I'm not sure if they support different sizes. 
Good thing Google got the patent before someone else decided to snatch it up.
Via: 9 to 5 Google