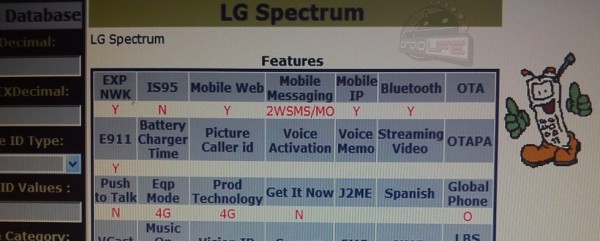 It has been a while since we last heard anything about the LG Revolution 2. Once rumored to be in the works as a 4.5″ HD screen toting, 4G LTE blazing, unbelievably thin-bodied beast, this phone sounded like the first major player from LG in years. We saw it potentially cruise through the FCC followed by a bunch of overseas picture leaks, but there was no U.S. mention to be found. And then all went silent. Until today that is.  
A new device by the name LG Spectrum has appeared in Verizon system and we found ourselves wondering if this just might end up as the follow-up device to the Revolution. No way to really tell for sure with the little information given in these pictures, but the device is most definitely global, 4G and made by LG. Now, we have seen Big Red release a few lower-end 4G devices over the last couple of months, so with the Galaxy Nexus, RAZR and Rezound on the way, this could very well be something mid-range.
If LG were to release an HD beauty in the states, would you be interested? Or have we written them off completely from the Android game?
Cheers ___!