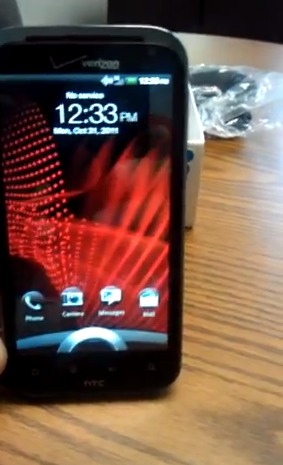 Mmmhmm, the HTC Rezound just got "unboxed" by a tester who clearly doesn't mind showing his mug to the entire internet. This is a "pre-production" model that looks pretty finished for the most part. I was told to expect a big Beats audio logo on the back of the device at launch, but after seeing this one with both "Verizon" and "4G LTE" on the back instead of "with HTC Sense," I'm not sure that will happen.
The tester doesn't discover anything shocking in this video, but is able to confirm the 1.5GHz dual-core processor, 4.3″ 720p HD screen, 1GB of RAM, and Sense 3.5 – all specs we reported back in early August. We also get to see under the battery cover for the first time, which appears to be some sort of see-through red plastic. It's one fine lookin' machine.
Can it compete with the Galaxy Nexus and DROID RAZR? We might know this Thursday when HTC takes the stage in NYC to announce it.  
http://www.youtube.com/watch?v=QUy1lyA51jY
Via:  DroidForums
Cheers Kelson!