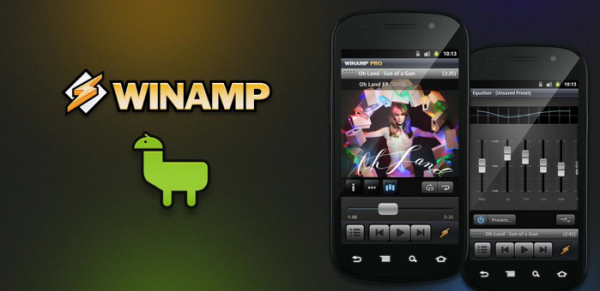 The Android Winamp app has received quite a significant update today, which is now available in the Android Market. The update includes the new Pro Bundle – a package of premium features, enhancements and customizations. The update also contains a customizable home screen, crossfade, gapless playback, FLAC playback support, browse by folders and more.
Additionally, Winamp now features Mac OSX support, granting users the ability to import their iTunes playlist. The Mac Sync will be able to sync music from your Android device to your Mac, and vice-versa.
While the app itself is free, the Pro Bundle will be available as an in-app purchase for $4.99. Winamp has always been a great program, from Windows to Android, however is this new bundle worth $4.99 – especially with numerous alternatives.  
Market Link
What's New:

The all new Winamp for Android Pro Bundle
The all new Winamp for Mac Sync Beta

We have a brand new update to the free Android app (Winamp for Android v1.2) which is available in the Android Market. There are plenty of new free features to play with, plus the new Pro Bundle. The Pro Bundle is a package of premium features including audio enhancements and customizations (e.g. 10-band graphic EQ, customizable home screen, crossfade, gapless playback, FLAC playback support, Browse by Folders & more). The Pro Bundle will be available as an in-app purchase for $4.99 from within the free version of the app.

We are also really excited to announce our first ever presence on the Mac OS, with the all new Winamp for Mac Sync (beta). Although not yet a full fledged incarnation of the Winamp Media Player, it's our first step! The initial goal of the Sync application is to help Mac users get their music onto their Android phones (or off their Android phones and onto their Mac). Our beta release offers the following features:

One-click music and playlist import from iTunes and Mac desktop
Keep Winamp updated automatically with Watch Folders and iTunes library sync
Wireless and wired sync with an Android phone (requires Winamp for Android)
The ability to play local files and playlists
Supports Mac OS 10.6 and above

We've got plenty of feature enhancements on the roadmap so stay tuned to www.winamp.com & the www.blog.winamp.com for updates or follow us on Twitter – www.twitter.com/winamp.

For more information about today's releases:

The latest Winamp for Android blog post –
The Winamp for Mac Sync blog post –
The updated Winamp for Android product page –
The new Winamp for Mac Sync product page –