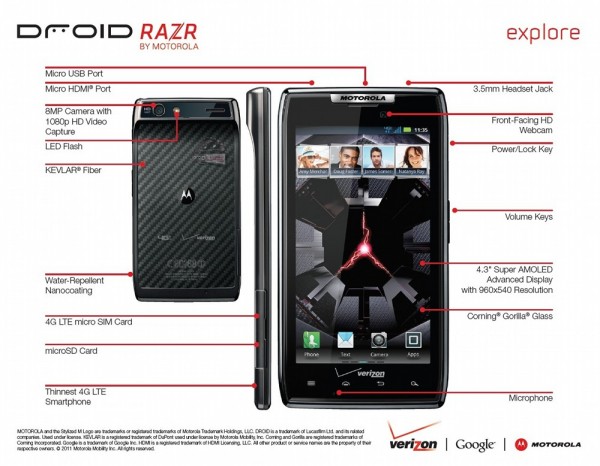 A friend just passed along this spec and outside overview sheet of the new DROID RAZR that goes up for pre-order in the morning for $299. It's a reminder that this phone is insanely thin yet still has a 4G LTE radio, dual-core 1.2GHz processor and 1GB of RAM tucked inside. And this probably doesn't get mentioned as much as it should, but the front camera on this phone is technically "HD" as it can shoot 720p video (first of its kind?). A Gorilla Glass front, KEVLAR fiber back, and water-repellent coating also add to the overall appeal of Moto's best effort yet. Actually, I would call this phone one of the more impressive Android handsets we have seen in a long, long time from any manufacturer.
On a related note, here is another look at that full retail price we reported on yesterday.    
I know we all have Galaxy Nexus on the brain, but this phone is truly impressive. If you are a developer and care about whether or not the bootloader is locked, this may not be for you. To the average user that wants a top-of-the-line phone that will last them for the life of a contract, this phone is as appealing as any phone on the market, especially with that thin body.
So many good phones coming out in such a short period of time. This is going to be a fun holiday season.
Cheers ___!