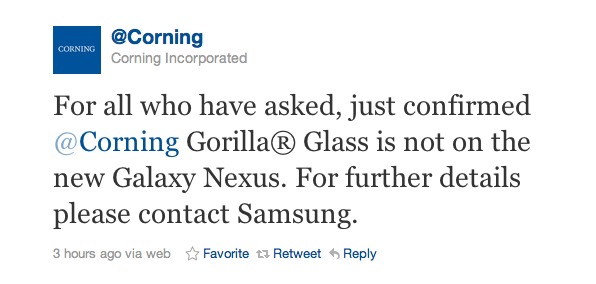 According to the official Twitter account of Corning – the folks that make Gorilla Glass – the Samsung Galaxy Nexus will not come equipped with their highly damage resistant screen technology. It would be safe to say that many of us are disappointed to hear this news especially knowing that many of the top-of-the-line tablets and smartphones of the last couple of years have had this wonderful product. Hell, even the DROID RAZR has Gorilla Glass. Definitely not a killer, we would just recommend that you try your hardest not to pocket drop your G-Nex or take a key and scratch the face of it as hard as you can.
Update: Over at Samsung's Facebook page they admit to the lack of Gorilla Glass, but also share that they use another type of glass that should be good as well:
Samsung Janel No. Instead of the Gorilla Glass we use another kind of fortified glass.
Speaking of Corning, has everyone seen the "A Day Made of Glass" video that they released earlier this year? It's a fantastic watch. We have included it for you all below.  
Incredibly disappointed? Slightly? Already moved on while thinking of the unlockable bootloader and bloatware free happy times?
Cheers Josh and Soren!