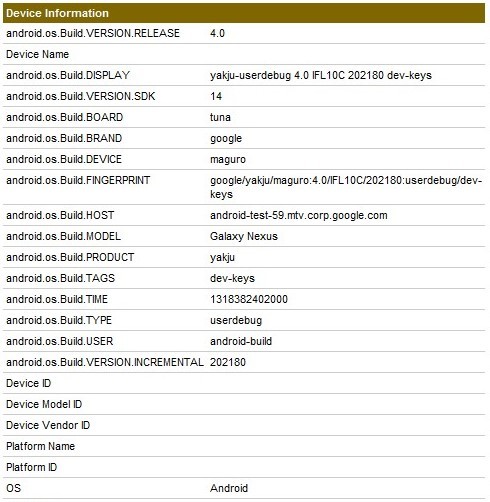 I hope everyone is ready for non-stop Galaxy Nexus and Ice Cream Sandwich talk today, because over the next 12 hours, it's going to dominate your life. Well, there will be a couple hour break when we head over to the Motorola DROID RAZR event, but then it will likely be back to G-Nex-Life.
In the latest bit of info to grace our inbox, we get to see one of the first benchmarks from the device and it's not pretty (meaning the scores are really low). There could be a variety reasons for that, so we will instead move forward and look at some of the other specs that seem to be confirmed yet again. We see that it most definitely has an HD (1280×720) display and a processor clocked at 1.2GHz. It's definitely running Android 4.0, is referred to as different types of tuna, and is again appearing as the Galaxy Nexus.
We should point out though that the resolution in the benchmark is actually showing as 1196×720. That just means that the on-screen buttons are 84×720 and were present during the test.
Via:  GLBenchmark, Ameblo