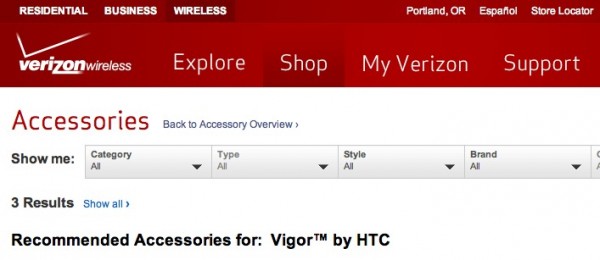 Are we all now 100% confused as to the name of the HTC Vigor aka Rezound aka Incredible HD?  What you are seeing above, is an accessory page that has been built for the "Vigor by HTC" on Verizon's website (view the page here).  So what does that mean?  Is it not the HTC Rezound like we reported last week?  Did Verizon actually settle on Vigor?  No Incredible HD as was once rumored?  Let's try to walk through what we are seeing and what we know.
First let's start with the fact that Vigor was originally supposed to be a codename and more than likely still is.  If you look at any HTC RUU that has leaked over the last year (Mecha, Bliss, Vivo, etc.), you probably won't find one that includes the retail name of the phone in it.  And so far, we have seen "Vigor" used in both of the leaked RUUs from the last week or so.
Second, the product ID number that has been assigned to this Vigor page is really old at 5723.  The Rhyme – which just came out this week – has a product ID of 5758 and the Bionic sits at 5716.  Logic would lead me to believe that the HTC Vigor or Rezound will have a number beyond 5758 when it launches, but I guess logic doesn't always win.  Big Red could be setting up the page well ahead of time.  And why would they go out of their way to trademark Vigor if they were going to replace it with Rezound?  So many questions.
Have HTC and Verizon finally settled on the name Vigor?  I hope so – it's a fine name for a phone. Something in my gut tells me this may just be a placeholder though, but am certainly hoping I'm wrong.
And by the way, here is the accessory page for the Stratosphere too.
Via:  Phandroid