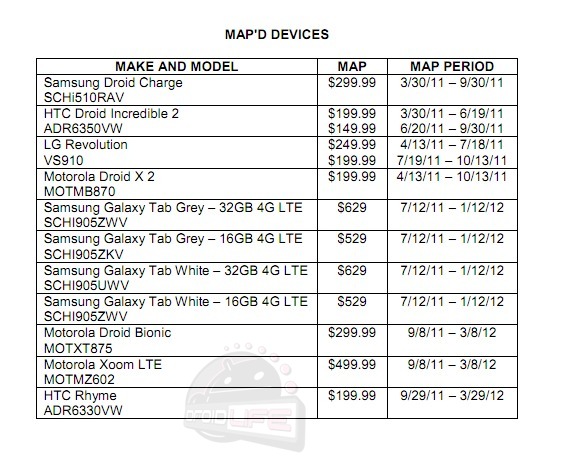 A new MAP (minimum advertised price) list popped into our inbox this afternoon featuring a couple of semi-new devices that are worth mentioning.  The first is the HTC Rhyme which we first outed back in early August as the ADR6330.  We know almost nothing about this device other than the fact that the model number fits somewhere between the HTC Merge (ADR6325) and DROID Incredible 2 (ADR6350).  So if we go off of those previous two devices (and $199 price), I would say it's a mid-range Android device that could end up being global.  We heard rumors a few months back about a new HTC slider (yep, keyboard) that had global capabilities – maybe this is it.  Or it could also be the oddly colored green HTC Bliss.  Oh, and the name itself certainly hints at it having Beats by Dre goodies built in.  Would certainly love to see a pair of headphones included.
The second thing we wanted to point out is the listing of the XOOM LTE for what appears to be a $499 2-year contract price.  If we are reading that list correctly, then it would suggest that this new 4G LTE XOOM could launch around next Thursday with the DROID Bionic.  And why is that significant?  Well, because all of the early adopters of the 3G XOOM are not going to have 4G in their device by then.  Yikes.
Cheers ___ and ___!
______________________
Some of our best videos.