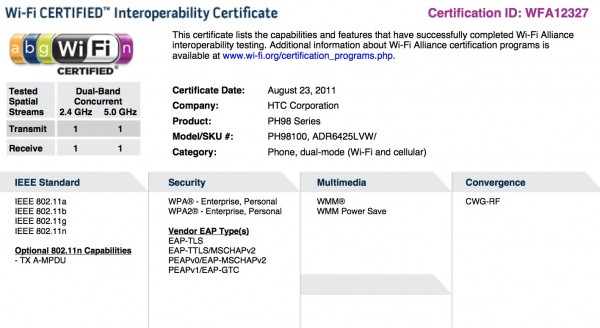 Yesterday the HTC Vigor (ADR6425) received its Bluetooth 3.0 certification, but it looks as if it may have received WiFi certification a few days before on August 23.  Just like yesterday's news though, this doesn't mean a whole lot except that the list of things needing to get accomplished before that October 6 launch date is getting shorter.
Need a recap on specs?  Our sources have told us that the phone will sport a 4.3″ HD screen, 1GB RAM, 1.5GHz dual-core processor, 16GB internal storage, 8MP rear camera, 2MP front, and the brand new version of Sense known as version 3.5.  The device should be similar in size and shape to the Thunderbolt (without the kickstand), which it is reportedly replacing, so that means we can expect it to be 4G LTE.
It is definitely a major player.