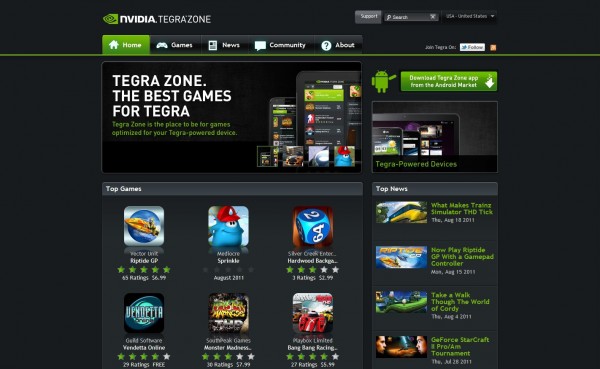 The folks at NVIDIA are taking this mobile gaming thing as serious as anyone these days.  For months now, we have enjoyed their TegraZone app which highlights any game that has been optimized for devices running Tegra processors.  So to help further influence this world of mobile gaming, NVIDIA has unveiled the new TegraZone.com website as well as an easier way for developers to submit games that they believe are on good enough to be featured as a Tegra-optimized title.
Through this new site, you'll find many of the same great features you found through the TegraZone app (which updated today by the way), only you can access it from anywhere and at any time.  You will see high res screenshots, videos, interviews with developers, and more.
Oh, and to celebrate the launch of all this gaming goodness, NVIDIA is giving away five (5) Acer Iconia Tabs, plus 15 t-shirts.
Enter the contest | Visit TegraZone.com | Market Link
Press release and full details after the jump.  
ABOUT TEGRAZONE.COM

www.tegrazone.com gives consumers another way to access all the great Tegra Zone content, whether you're on your PC, Mac, laptop, or other mobile device. That includes professional game reviews, high-res screenshots, HD videos, game developer interviews, the latest gaming news, and more. Consumers get everything found in the app, along with extras such as community forums. 

About Facebook and Twitter Testing:

After you click on the Facebook Share or Twitter Tweet button, a pop up window will show what you would share if you proceeded.  Please do not continue by clicking on the "Share Link" or "Tweet" button, as this will broadcast the beta URL to your followers publically.

New Developer Program for Tegra Zone, "Zone In":

To encourage more game developers to develop for Tegra, NVIDIA has created a new "Zone In" section under Tegra Developer Zone at http://developer.nvidia.com/zone-in.

Via an online submission form http://developer.nvidia.com/content/zone-application, developers can get their game in front of NVIDIA. Submissions will be reviewed and play tested, and each submission will receive a personalized response from NVIDIA regardless of the outcome of the submission. Developers accepted into the program will get their game into Tegra Zone.

A help page with tips and explanations for developers can be found here: http://developer.nvidia.com/zone-in-application-help

Tegra Zone Sweepstakes

To commemorate the launch of TegraZone.com, NVIDIA's giving away five Acer Iconia Tab A100 tablets during the first month. Readers can enter atwww.tegrazone.com. (NOTE: The sweepstakes section will reside under the Community tab, but is under development until Tuesday, 8/23.)

Tegra Zone Android App Update:

The original Tegra Zone Android App has also been updated. Via this update users will now see:

·         A "GET DEMO" button – about 25% of NVIDIA games now have a free demo/lite version of the game
·         Android notifications
·         Updated sharing (link to specific game/news page on tegrazone.com)
·         Better Facebook integration
·         International app feedback

Support for Japan, UK, and India; in addition to already available U.S., Brazil, France, Germany, Italy, Poland, Russia, and Spain
______________________
Some of our best videos.