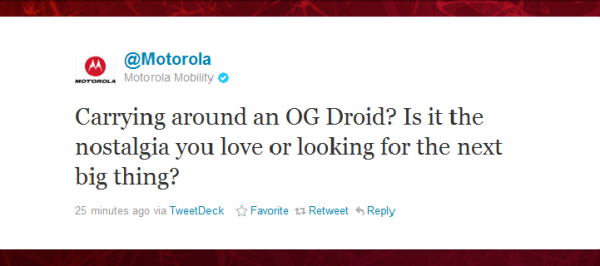 Looks like Motorola peeps have been stalking Droid Life lately. Who else could possibly get away with calling it the "OG"? With all that to the side, we are starting to see a huge spike in Bionic advertisment, and we are sure there is only more to come. Remember all the highly edited, fast-shot commercials the "OG" DROID had back in the day? Hard to think that people are not digging this "Ninja Chick vs. Robot" ad campaign.
What about all the DROIDX commercials? The "Eagle Eye" commercial created a whole bunch of hype, and better yet, the "See You Tomorrow" promo video was almost more epic than any full length movie trailer. Either way, fasten your seat belts because we are sure to be in for a extreme marketing campaign for the DROID Bionic.
If you thought you had enough of this phone already, then you might want to stop watching TV, browsing the internet, or even leaving your house soon.
Via: Motorola Twitter
Cheers jlukes!