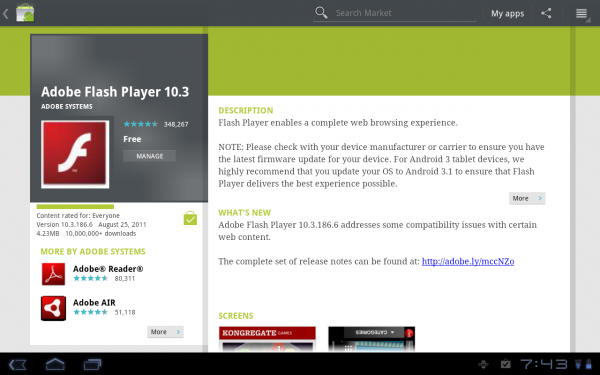 Always a good day when our lovely Android devices receive an Adobe Flash update. Enabling us to further browse and surf the web with ease, and joy. After reporting on the update to Google+, our Twitter friends didn't waste any time in letting us know that Flash was also issued an update.
Market Link
Fixes and Enhancements in Flash Player 10.3.186.6

Adobe Flash Player 10.3.186.6 addresses compatibility issues:

Calls to gotoAndPlay() and gotoAndStop() no longer fail in some Flash applications which load shared libraries (2943612).
TextField instances which specify a negative offset (x property contains a negative value) now correctly flow the text horizontally instead of vertically (2941680).
Improved performance in some cases when displaying complex animations (2941931).
Flash applications at certain websites ) now load correctly (2944081).
Cheers everyone who tweet and sent this in!