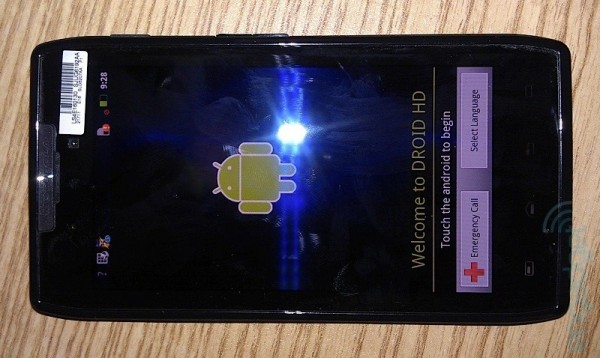 The mysterious DROID HD took the tech world by storm on Monday when it appeared in a variety of photos over at Engadget.  Up until that point, we had only seen the name attached to some Flickr photos and on an Asian site with photos of a follow-up Atrix – we definitely had no other details of it.
After the pics went live though, we reached out to our sources to see what we could dig up, since there were some questions as to whether or not this was the rumored Motorola Dinara.  Well first off, we have been told that this phone is not the Dinara, but is instead the Motorola Spyder (codename of course).  It is more of a brother to the Photon 4G than anything, has a "different" screen and smaller MP camera than the Dinara, and should be headed to Verizon – something we could have all guessed if the "DROID" name attached to it holds up.
As for the Dinara, we know that many people are under the impression that it is headed to AT&T, but our sources assure us that the device is at this time being tested on Verizon LTE.  Could it end up on AT&T only as one of their first LTE devices?  Most definitely.  Especially with this Spyder device looking like Verizon's next big Moto offering.  Our sources also mentioned that the Dinara is the higher-end device of the two, but were not told exactly why.
Keep it in Rumorville for now.  Add it to the list of codenames to keep an eye out for.
Cheers ___!